Only words? How Power in Trade Agreement Texts Affects International Trade Flows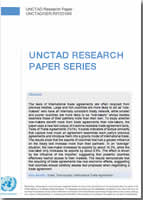 UNCTAD Research Paper No. 26
The texts of international trade agreements are often recycled from previous treaties.
Large and rich countries are more likely to act as "rulemakers" who have an internally consistent treaty network, while smaller and poorer countries are more likely to be "rule-takers" whose treaties resemble those of their partners more than their own.
To study whether rule-makers benefit more from trade agreements than rule-takers, the paper uses a new text corpus of machine-readable trade agreement texts, Texts of Trade Agreements (ToTA).
It builds indicators of textual similarity that capture how much an agreement resembles each party's previous agreements and introduce them into a gravity model of international trade. The results show that the exports of countries that had a greater influence on the treaty text increase more than their partners'.
In an "average" situation, the rule-maker increases its exports by about 16.3%, while the rule-taker only increases its exports by about 8.8%.
The effect is driven by the influence of the importer, suggesting that powerful countries effectively restrict access to their markets.
The results demonstrate that the recycling of trade agreements has real economic effects, suggesting that countries should carefully assess text proposals when negotiating a trade agreement.
---