Road Safety - Considerations In Support Of the 2030 Agenda for Sustainable Development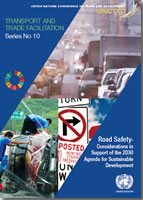 Transport and Trade Facilitation Series, No 10
In the field of transport, the focus of UNCTAD's work has been particularly on international maritime and multimodal transport, with the interests and needs of developing countries at the heart of its work and mandate. Transport is very important for trade and the global economy as it facilitates access to jobs and services, helps develop the economy and reduce poverty. Sustainable transport is essential to achieving most of the goals in the 2030 Agenda for Sustainable Development, especially those related to food security, health, energy, infrastructure and cities, human settlements, and climate change.
This report was prepared as part of UNCTAD's contribution to the progress of implementing road safety targets in the context of the 2030 Agenda for Sustainable Development. Every day more than 3,500 road deaths occur worldwide. Each year over 1.25 million people die, and an additional of up to 50 million are injured or permanently disabled in road accidents. 90 per cent of road traffic deaths occur in low and middleincome countries, although these countries have only 54 per cent of the world's vehicles. The large number of annual deaths from road traffic accidents, has been listed as one of the main challenges caused by unsustainable transport, along with the generation of almost a quarter of the greenhouse gas emissions by the transport sector.
The report concentrates on the relevant international regulatory framework, highlights the potential relevance of implementing existing conventions and other international legal instruments in the field of road safety, and overall, underlines the importance of a supportive legal and regulatory framework as a means for improving the achievement of the sustainable development goals. The report highlights a number of worldwide international legal instruments that aim to facilitate international road traffic by means of adoption of uniform road traffic rules, documents, signs and signals, construction and technical inspection of vehicles, road infrastructure, driving times and rest periods for professional drivers, and safe transport of dangerous goods and hazardous materials. Their implementation would bring safer mobility and behavior of road users, safer roads and safer vehicles. The report presents an overview of developing countries membership to these worldwide instruments, explains their legally binding nature among States that become Parties to them, and encourages their wide adoption and full application, in order to advance the swift implementation of targets related to road safety.
In addition, the report recognizes that both sustainable transport and sustainable, inclusive and high-quality infrastructure, are of cross-cutting importance for increasing economic growth, and attaining the sustainable development goals. It highlights the efforts, activities and initiatives undertaken by many international agencies and other bodies in the field of road safety, and aligns UNCTAD's role to these efforts, particularly pursuant to its renewed mandate, reflected in the Nairobi Maafikiano. In accordance with it, UNCTAD shall among others, continue its work in the field of transport and trade logistics, as well as its contribution to the effective implementation of international agreements and outcomes that recognize the role of transport infrastructure in the implementation of the 2030 Agenda, including the relevant outcomes of the Addis Ababa Action Agenda (AAAA).
---