UNCTAD Handbook of Statistics 2016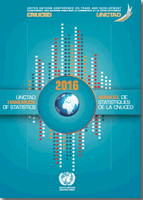 The UNCTAD Handbook of Statistics provides a collection of statistics and indicators relevant to the analysis of international trade, investment and development. Reliable statistical information is indispensable for formulating sound policies and recommendations that may commit countries for many years as they strive to integrate into the world economy and improve the living standards of their citizens. Whether it is for research, consultation or technical cooperation, UNCTAD needs reliable and internationally comparable trade, financial and macroeconomic data, covering several decades and as many countries as possible.
In addition to facilitating the work of the secretariat's economists, the Handbook provides all other users - policymakers, research specialists, academics, officials from national governments or international organizations, journalists, executive managers, members of non-governmental organizations - with access to cross-comparable sets of data. The Handbook presents a consolidated, yet wide-ranging overview of the statistical series available at UNCTAD.
The publication is available in printed copy and DVD format. Unlike the Handbook, which captures statistics at one point of time, UNCTADstat is continuously updated and enhanced, thus providing users with the latest available data. Consequently, the figures from the Handbook may not always correspond to UNCTADstat.
To help us provide better and more relevant statistics to users, you are invited to send your comments to
statistics@unctad.org
.
---
Le Manuel de statistiques de la CNUCED fournit des statistiques et indicateurs essentiels à l'analyse du commerce international, de l'investissement et du développement. Une information statistique fiable est indispensable à la formulation de politiques saines et de recommandations qui engageront les pays pour de longues années dans leur processus d'intégration dans l'économie mondiale et d'amélioration des conditions de leurs peuples. Que ce soit pour la recherche, la concertation ou la coopération technique, la CNUCED a besoin de données commerciales, financières et macroéconomiques fiables, comparables au niveau international et disponibles, si possible, sur plusieurs décennies et pour un maximum de pays.
En plus de faciliter les travaux des économistes du secrétariat, le Manuel fournit à tous les autres utilisateurs, décideurs, chercheurs, universitaires, fonctionnaires d'administrations nationales ou d'organisations internationales, journalistes, cadres d'entreprises ou membres d'organisations non gouvernementales, un accès à des données transversales comparables. Le Manuel présente un aperçu harmonisé des séries statistiques disponibles à la CNUCED.
Le Manuel est disponible en version imprimée et DVD. À la différence du Manuel qui présente des statistiques figées à un moment donné, UNCTADstat est améliorée et actualisée régulièrement pour mettre à la disposition des utilisateurs les données les plus récentes. Par conséquent, les données du Manuel ne pourront être comparées systématiquement à celles d'UNCTADstat.
Afin de mettre à disposition des utilisateurs des statistiques toujours plus pertinentes, nous vous invitons à nous faire part de vos commentaires en nous écrivant à statistics@unctad.org.
---