28 January 2022
UNCTAD brings together stakeholders to examine how measures to facilitate cross-border trade can contribute to a strong and inclusive recovery from the pandemic.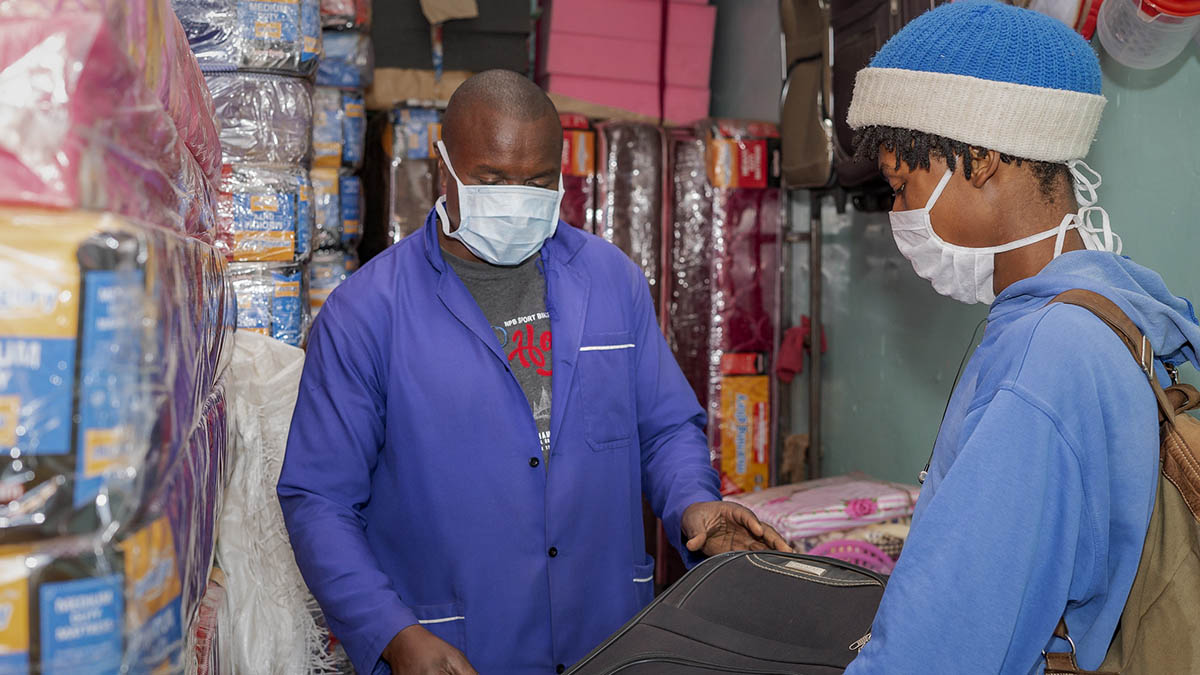 Countries are at a turning point amid the COVID-19 crisis, and the decisions their policymakers make to ease trade will go a long way in determining the strength of their recovery from the pandemic.
UNCTAD's global forum for national trade facilitation committees (NTFCs) to be held online from 1 to 4 February will examine how to accelerate the implementation of trade facilitation reforms through these committees during and after the pandemic.
Trade facilitation entails expediting the clearance of goods to reduce the time and cost of import, export and transit procedures to ensure the free flow of goods across borders.
"COVID-19 has been a stark reminder that the pains caused by trade disruptions are real. These pains were already daily realities for people in vulnerable nations, who rely on trade for essential goods," said UNCTAD Secretary-General Rebeca Grynspan.
"Making it easier and less costly to move goods across seas and borders is critical to ensuring a sustainable and inclusive recovery. Because trade is about people and about improving their lives," Ms. Grynspan said.
The forum offers an opportunity to members of NTFCs, policymakers and other relevant stakeholders to discuss the latest trends in the implementation of trade facilitation reforms and share insights on good practices.
Drivers of change in COVID-19 recovery
NTFCs are drivers of change in COVID-19 recovery efforts. They are multi-stakeholder coordination bodies established in most countries as public-private-partnerships to advance trade facilitation and logistics policy reforms.
They play a key role in assisting global supply and value chains to be efficient and identifying best trade measures in times of emergencies such as the pandemic.
Although NTFCs existed in many countries prior to 2017, the Trade Facilitation Agreement (TFA) of the World Trade Organization (WTO), made them mandatory, recognizing the importance of close coordination between government entities and the business community to facilitate cross-border trade.
The forum's discussions will offer participants evidence on how planning, organization, automation and digitalization of NTFCs' work can assist in advancing and accelerating trade facilitation reforms.
Supporting progress on trade facilitation reforms
Forum participants will examine the progress made in the implementation of the TFA and other agreements at the national and regional levels.
UNCTAD is primed to help with this progress. As the UN's trade body, UNCTAD provides technical support to NTFCs around the world, particularly in developing and least developed countries, to help them implement the TFA.
Its empowerment programme for NTFCs equips them to successfully undertake their mandate to implement trade facilitation reforms in a coordinated manner.
UNCTAD also offers e-learning opportunities to NTFCs, which are often in need of additional skills and knowledge to build a common understanding of their roles and responsibilities.
It also hosts a reform tracker platform that has empowered 19 countries across Africa, Asia and Latin America to better track, monitor and manage their trade facilitation initiatives.
UNCTAD also maintains an NTFCs knowledge database that enables countries to explore and compare NTFCs' profiles among each other and across regions and levels of development.
UNCTAD's trade information portals programme assists countries in providing a platform for transparent rules and procedures for cross-border trade and simplifying them.
And the organization's largest technical assistance programme, ASYCUDA, has over the past 40 years helped customs offices around the world accelerate the clearance of goods and increase the pace of trade.
Tangible solutions to ease trade
Among other issues, the forum will examine tangible solutions and approaches to empower NTFCs as coordinators of trade facilitation reforms and how they can mainstream digital tools.
"Digital tools have proven very effective in supporting the work of NTFCs, especially in the context of the movement restrictions imposed by the COVID-19 pandemic," said Shamika N. Sirimanne, director of technology and logistics at UNCTAD. "They ensure that NTFCs can effectively coordinate their trade facilitation activities without disruption."
The tools can also help solve many recurrent challenges facing NTFCs, such as the rotation of members and the lack of accountability, making the committees more results oriented.
Participants will also discuss NTFCs' role in promoting gender equality in trade facilitation policies, as women traders often face gender-based barriers, such as legal discrimination and verbal, physical and sexual violence at borders.
The forum will offer countries a unique opportunity to learn more about the trade facilitation programmes offered by UNCTAD and its partners. Participants will also have the chance to interact online with donors, regional and international organizations.
Global trade facilitation report
The event will feature the launch of the Digital and Sustainable Trade Facilitation Global Report 2021, jointly prepared by the UN Economic and Social Commission for Asia and the Pacific and other UN regional commissions.
The report provides insights on the implementation of trade facilitation measures in 144 economies. It notes that countries across the globe have accelerated progress on digitalizing international trade formalities during the COVID-19 pandemic, with the Asia-Pacific region leading other developing regions in the implementation of paperless trade measures.
Meeting of Latin American trade facilitation committees
The second meeting of Latin American trade facilitation committees will take place in parallel with the forum. Around 170 delegates from 15 Latin American countries will participate in eight sessions where they'll share their experiences of the implementation of the TFA.