19 October 2023
UNCTAD's 8th Women in Business Awards honoured successful entrepreneurs from developing countries who are driving positive change for people and the planet.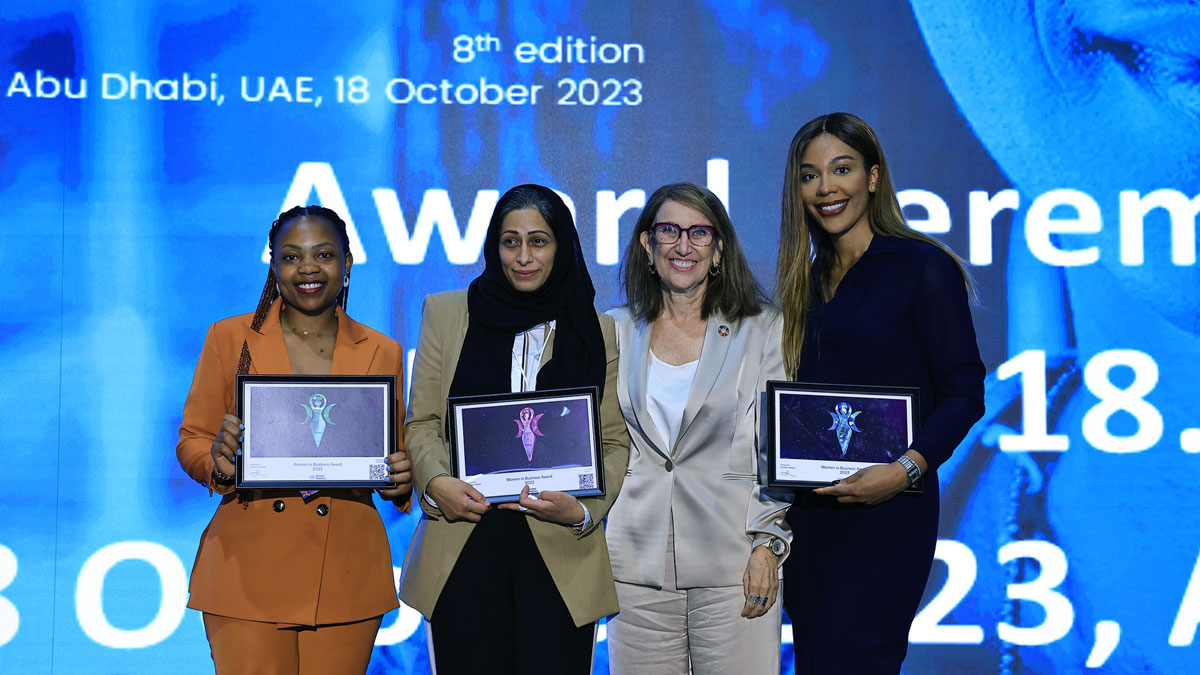 Entrepreneurs from Uganda, Nigeria and Saudi Arabia took the spotlight on 18 October at UNCTAD's 8th Women in Business Awards in Abu Dhabi, United Arab Emirates.
Held during the organization's World Investment Forum 2023, the event honoured women entrepreneurs from developing countries who've not only achieved success but also promoted business models that deliver a positive impact for people and the planet.
"It gives me immense pride to recognize the women entrepreneurs present tonight," UNCTAD Secretary-General Rebeca Grynspan said.
"You have demonstrated what it truly means to have a vision steered by passion, strength and an unyielding commitment to making a difference by breaking age-old glass ceilings, introducing groundbreaking ideas and carving out new pathways."
Top prize for a sustainable mosquito-repellent lotion
Jovia Kisakye, the founder and CEO of Sparkle Agro Brands, clinched the top Empretec Award for her business that fights malaria while supporting small dairy farmers in her native Uganda.
Named after UNCTAD's Empretec entrepreneurship programme, the award has been handed out every two years since 2008.
Ms. Kisakye's business turns spoiled milk into a sustainable mosquito-repellent lotion that doesn't use harsh chemicals. Since 2019, the company has sold 100,000 lotion units, with one fifth dedicated to refugee areas.
"The award is an inspiration," Ms. Kisakye said. "It encourages me to do even more."
Ms. Kisakye's business idea was inspired by childhood memories of people in her community suffering from malaria and farmers wasting milk.
She also uses her company to empower women, who hold half of the top management positions at Sparkle Agro Brands.
Technology award for digital payment bridge for Africa
Jessica Anuna, founder and CEO of Klasha, a digital payments company, won the Technology Award for her business solution to a major e-commerce challenge in Africa: cross-border payments.
The company, based in Lagos, Nigeria and San Francisco, acts as a digital bridge between global businesses and African consumers.
Klasha eliminates the need for companies to handle country-specific payment connections and currency conversions. And it allows Africans to pay in their own currencies using familiar methods, such as M-Pesa for Kenyans and Naira bank cards for Nigerians.
The company's payment gateway accepts over 120 currencies and operates in six African countries.
"We're building Klasha to ensure that Africans can remain globally competitive to access the goods and services they want when they want," Ms. Anuna said.
Special award for ready-to-use microbiological culture
Sarah Al Jishi from Saudi Arabia won the Encouragement Award for her leadership as the founder and CEO of Sedra.
Her company manufactures ready-to-use microbiological culture media – a source of essential nutrients for the growth of micro-organisms such as bacteria and fungi that are used in industries such as pharmaceuticals, cosmetics and food and beverage.
As one of the first Saudi women to start a manufacturing business, Ms. Al Jishi has created an environment of innovation and continuous learning for Saudi women in the medical sector.
'A group that can change the world'
The awards not only showcase exceptional entrepreneurs but also shed light on the many challenges – social, cultural and structural – that women have to overcome to start and grow a businesses. Women make up only a third of entrepreneurs worldwide.
"Each one of you stands as a testament to resilience and innovation," Ms. Grynspan told the finalists, saying they show that women are not "a vulnerable group".
"We are a group of people that can change the world," she said.
A pool of 88 candidates from 26 countries
The winners were selected from an initial pool of 88 candidates from 26 countries, which was narrowed down to 18 finalists by an international panel of business leaders, academics and officials from business organizations. See the list of panel members and the finalists' profiles.
Empretec Award finalists
Maria Eduarda Franklin da Costa de Paula, CEO and Co-founder, Orby, Brazil
Norsavina Kaharudin, CEO of VNI Scientific Sdn Bhd, Malaysia
Jovia Kisakye, founder and CEO of Sparkle Agro brands, Uganda
Iram Maimuna, CEO of E-waste social, India
Dina Abdul Majeed, founder and CEO of 360Moms, Jordan
Fatoumata Njie, founder and CEO of Yaxare, The Gambia
Marianela Pavicich, co-founder of Robbina Inclusive Design, Argentina
Ararat Tamirat, founder of Tuba By Ararat, Ethiopia
Selamawit Tomas, owner and CEO of COOL, Ethiopia
Laura Villagómez, CEO of DIYCLUB Fashion and Sewing Academy, Ecuador
Technology Award finalists
Jessica Anuna, CEO of Klasha, Nigeria
Mylene Chua-Magleo, co-founder and CEC of Paynamics, Philippines
Amanda Etuk, co-founder of Messenger, Nigeria
Afia Fitriati, CEO of Gadjian, Indonesia
Nazish Hussain, founder of Secret Stash, Pakistan
Anum Kamran, founder of Buyon, Pakistan
Nadia Uwamahoro, founder and CEO of Data Systems Ltd, Rwanda
Uju Uzo-Ojinnaka, CEO of Traders of Africa, Nigeria
A programme for entrepreneurs in developing countries
Most of the finalists are graduates of UNCTAD's Empretec capacity-building programme, designed for entrepreneurs and small business owners in developing countries.
Empretec has trained more than half a million entrepreneurs from developing nations since 1988. It operates 41 national business development centres worldwide, with 40 international master trainers and 600 local certified trainers.