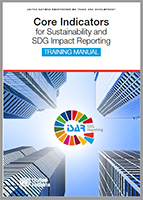 In 2015, Member States of the United Nations adopted the 2030 Agenda for Sustainable Development, containing 17 Sustainable Development Goals (SDGs) and 169 targets.
SDG 12 Sustainable Consumption and Production in its Target 12.6 explicitly encourages companies to adopt sustainable practices and to integrate sustainability information into their reporting cycles. Indicator 12.6.1 requires data on the number of companies publishing sustainability reports.
Since 2015 UNCTAD has been working to enable further advancements on SDG sustainability reporting by companies. Specifically, focusing efforts to support governments in measuring the contribution of the private sector to the implementation of the SDGs.
UNCTAD developed its Guidance on core indicators for entity reporting on contribution towards implementation of the Sustainable Development Goals (GCI).
This Training Manual has been updated based on the changes included in the second edition of the Guidance on Core Indicators for Sustainability and SDG Impact Reporting.
The core SDG indicators cover the economic, environmental, social and institutional areas. They were identified based on key reporting principles, main reporting frameworks and companies reporting practices.
Economic area indicators
Revenue
Value added (gross value added, GVA)
Net value added (NVA)
Taxes and other payments to the Government
Green investment
Community investment
Expenditures on research and development
Share of local procurement
Social area indicators
Share of women in managerial positions
Hours of employee training
Expenditures on employee training
Employee wages and bene?ts
Expenditures on employee health and safety
Incidence rate of occupational injuries
Share of employees covered by collective agreements
Environmental area indicators
Water recycling and reuse
Water use efficiency
Water stress
Waste generation
Waste reused, re-manufactured and recycled
Hazardous waste generation
Greenhouse gas emissions
Ozone-depleting substances and chemicals
Share of renewable energy
Energy efficiency
Land used adjacent to biodiversity sensitive areas
Institutional area indicators
Board meetings and attendance
Share of female board members
Board members by age range
Audit committee meetings and attendance
Compensation per board member
Corruption incidence
Management training on anti-corruption
The Training Manual also contains self-assessment questions and solutions and a list of selected references to deepen the understanding of these issues.
---
GCI Tutorials
Following the structure of the Training Manual the Tutorials are also divided in 4 booklets containing slides that provide key points on each of the core SDG indicator in economic, environmental, social, and institutional areas.
The Tutorials are intended to support users in carrying out their further self-paced studies based on what they have already learned in the GCI and the GCI Training Manual.
The booklets can be accessed at the links shown below:
(UNCTAD/DIAE/2022/1)
-
14 Oct 2022