25 September 2018
12:00 - 02:00 hrs., 12:00 - 14:00, Conference Room IV, UN Headquarters
New York
, United States of America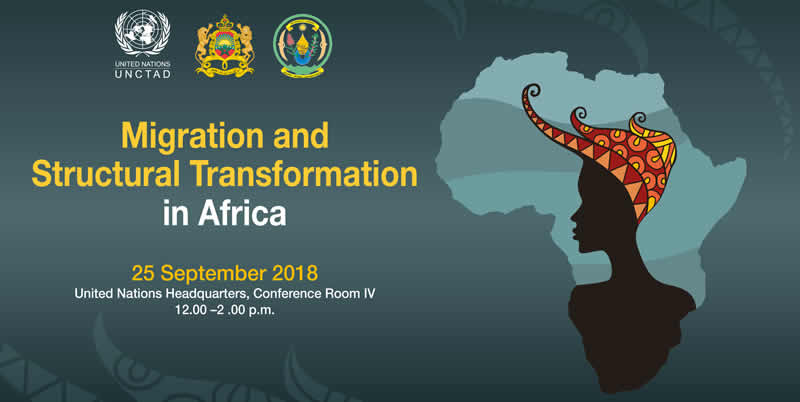 The outflow of migrants from Africa to other regions, and particularly to Europe, features prominently in the media and garners significant consideration from the research community. Intra-African migration, however, has received little attention. This is the case despite an estimated 53 per cent of migration in Africa occurs intra-regionally.
From an economic perspective, the assumption is that migration is driven by a mismatch between population growth and availability of resources and opportunities.
To be well understood, however, the actual drivers, as well as costs and benefits, of migration flows in Africa must remain subject to analytical scrutiny. Pioneering work on this issue is at the heart of the UNCTAD Economic Development in Africa Report 2018: Migration for Structural Transformation.
Against this backdrop and negotiations on the Global Compact for Safe, Orderly and Regular Migration, this high-level event is timely for the international community, particularly in the context of advancing implementation of the 2030 Agenda for Sustainable Development and the African Union's Agenda 2063.
Objective
The main purpose of the high-level event is to provide a platform to raise awareness and discuss how to maximize the economic and developmental impacts of migration in Africa. The high-level event will further seek to foster integrated policies and strategies, deepen cooperation and partnerships, and enhance support for African efforts to use migration management to strengthen the pooling of resources under humanitarian, environmental, security and development efforts and ensure the continent's structural transformation is economically sustainable.
Format
The high-level panel event will bring together high-level officials from various organizations working on migration, trade, economic development, peace and security, including representatives of African Member States, the African Union, African regional economic communities, the European Union, civil society organizations, the United Nations system, international partners and academia, as well as members of the media.
The following speakers (in alphabetical order) have confirmed their participation: 
H.E. Mr. Nasser Bourita, Minister for Foreign Affairs and Cooperation, Kingdom of Morocco
H.E. Ms. María Fernanda Espinosa Garcés, President of the 73rd session of the United Nations General Assembly
Dr. Mukhisa Kituyi, Secretary-General, United Nations Conference on Trade and Development
H.E. Mr. Moussa Faki Mahamat, Chairperson of the African Union Commission
H.E. Ms. Federica Mogherini, High Representative of the European Union for Foreign Affairs and Security Policy / Vice-President of the Commission
H.E. Ms. Louise Mushikiwabo, Minister of Foreign Affairs, Cooperation and East African Community, Republic of Rwanda
Registration
Due to limited seating available, a special pass will be needed to attend the event. Registration for the high-level panel has now closed.
Speakers' List
If your Delegation wishes to take the floor, kindly RSVP to [email protected], including the name and title of the speakers. Delegates are asked to limit their remarks to three minutes.
Simultaneous interpretation in English and French will be provided during the event.
Important Information for Participants
The event is held during the high-level week of the UN General Assembly. All participants will need an event-specific pass to enter Conference Room IV, unless you are a delegate with a protocol secondary pass  (6+4).  

Your passes will be available for pick up on 25 September 2018 from 10:00 a.m. to 11:15 a.m. at the Security Checkpoint, located at the corner of 46th Street and Second Avenue. Please bring a photo identification with the exact same name under which you registered and a copy of the email confirmation of your participation to receive your pass. Due to heightened security and street closures, please plan to arrive early. Your pass is personal and non-transferable.

After receiving your pass, participants will be escorted in groups of 25 to the UN security screening area. Once through security, you will be escorted to Conference Room IV.

The high-level panel will start at 12:00 p.m. sharp. Therefore, we ask that all participants arrive at the meeting point at 46th Street and Second Avenue no later than 11:15 a.m.
For further information, please see the Note for Participants.
There is some issue in accessing document path, Please contact to Site Admin
There is some issue in accessing document path, Please contact to Site Admin
Co-organizer(s):
The high-level panel is co-organized by the Governments of Morocco and Rwanda and the United Nations Conference on Trade and Development (UNCTAD).
---

Language(s)
English | Français |
Related Sites:
​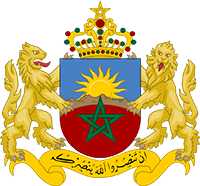 Government of Morocco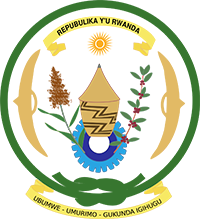 Government of Rwanda
For more information on UNCTAD's work, please see: http://www.unctad.org/ALDC.