08 December 2017
​UNCTAD Deputy Secretary General, Isabelle Durant officially launched the 50th edition of the UNCTAD Statistics Handbook at a press conference.
During the her presentation, Deputy Secretary General, Isabelle Durant explained how in an era of 'fake news' the provision of impartial 'facts' is more important than ever. She explained that UNCTAD prides itself on the dissemination of independent and impartial statistics to support analyses and to inform decision making and policy formation and assessment.
She noted that the new handbook has been completely transformed. The focus has shifted away from simply providing statistics (which can all be found on UNCTADStat) to explaining the statistics. The new report identifies key trends and messages. So the idea is add value to the statistics.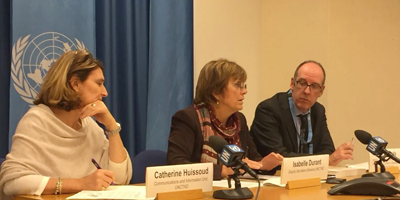 Catherine Huissoud, Communication and Information Unit;  Isabelle Durant, Deputy Secretary General; Steve MacFeely, Head of Statistics Branch
This 50th edition is slimmer than previous editions and we hope this will be less daunting and more user friendly. The tables are presented in a more aggregated format making them easier to read. The addition of maps, charts and infographics should also make it easier for the reader navigate and understand. She also noted that there are many statistical handbooks available. But few if any cover such a wide range of topics - trade, FDI, macro-economic trends and population and demography. And for the first time, the handbook has also included a special chapter on maritime statistics, reflecting the importance of this sector for development. The UNCTAD report also places special emphasis on developing countries.
The Deputy Secretary General stressed that the report presents only a small selection of the data and statistics available from UNCTAD. But for those who want other statistics or indicators, or who want all the detail or long time-series - do not worry, all of these data are still available at UNCTADStat.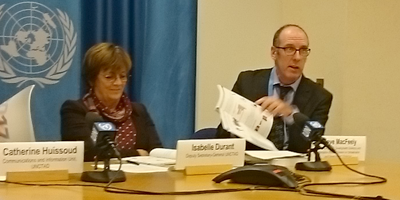 Deputy Secretary General, Isabelle Durant; Steve MacFeely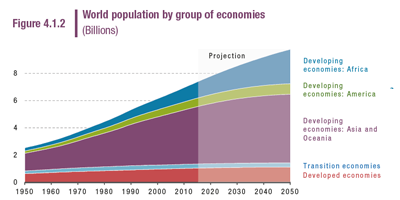 The Deputy Secretary General noted that a good statistics handbook should, if nothing else stimulate thought and discussion and provoke questions. She noted that the statistics in chapter 4, dealing population and demographic changes, had caught her eye. She explained that the world's population in 2016 was 7.5 billion people but by 2050 we expect that to grow to almost 10 billion (an additional 2.4 billion people in only 33 years). Almost all of that growth will occur in developing countries. And most of that growth will take place in urban centres - the equivalent of an additional 193,000 people (or a small city) per day, every day, for the next 33 years.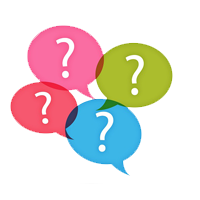 When she saw these numbers, she naturally wondered:
With northern populations contracting and ageing, while African and Asian populations grow rapidly - what will this mean for global migration?

Will African countries be able to capitalize on the emerging age dividend? If not, what will it mean for employment? And for peace and stability in the region?

In the context, of the SDGs, how will we manage to provide basic services, such as housing, sanitation and clean water in regions where urban centres are growing so rapidly?