30 June 2014
​UNCTAD and the Albanian Customs Administration have signed an extension of a project that aims to fully implement e-payment services using UNCTAD's ASYCUDA customs software.
Speaking at the signing, Mr. Draganov, UNCTAD Deputy Secretary-General underlined the importance of the support of the Albanian Government as well as good cooperative relationship between UNCTAD and the national counterparts as key to the customs modernization process in the country. He expressed hope for enhanced collaboration in this and other areas in the future with a view to making Albania a regional model of excellence. He also praised the gender policy of the Albanian government which empowers women in the Customs Administration.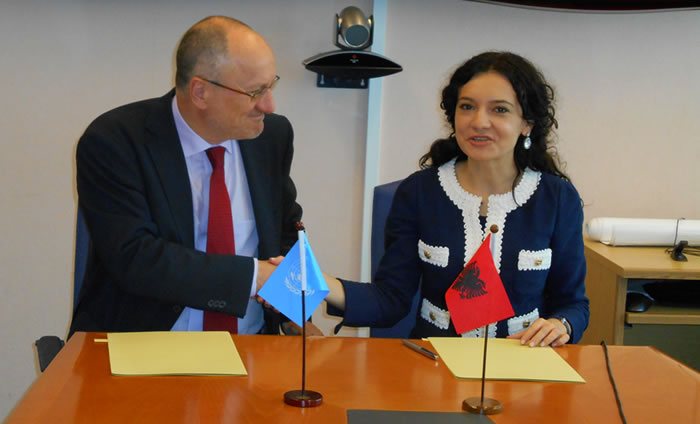 Mr. Petko Draganov, UNCTAD Deputy Secretary-General with Ms. Spiropali, Director General of the Albanian Customs Administration
Ms. Spiropali, Director General of the Albanian Customs Administration, said the ASYCUDA project was "a definitive success" and noted the potential for continued collaboration, in particular in the areas of electronic services and the creation of common transit corridors in the region. She said that the Albanian Customs Service will continue to keep up with modern technologies and ICT tools and expressed interest in upgrading ASYCUDA so that a truly functional "single window" customs service could be developed.
Ms. Filloreta Kodra, Ambassador Extraordinary and Plenipotentiary and Permanent Representative of Albania to the United Nations Office, underlined the importance of UNCTAD to the Albanian government, including its support and expertise in customs, trade and other areas. Ms. Kodra also indicated that Albania was ready to offer training facilities for disseminating international best practices to other countries in the region.
The above UNCTAD activities, carried out within the United Nations Inter-Agency Cluster on Trade and Productive Capacity, are part of the United Nations Development Assistance Framework Albania 2012-2016 titled "Programme of Cooperation" under Outcome 2.1 "Government, trade organizations and the private sector support inclusive and sustainable economic growth through enhanced regulatory frameworks, trade facilitation and investment promotion".