05 October 2012
Thirty-five members of Bhutan's public and private sectors met in Thimphu today to validate UNCTAD's investment guide for the country.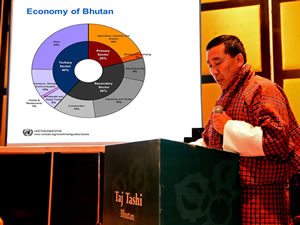 Mr. Tandin Tshering, Director of Industry, Ministry of Economic Affairs of Bhutan, opening the stakeholders' workshop on the Investment Guide to Bhutan, 4 October 2012
The guide is a joint publication between UNCTAD and the International Chamber of Commerce, and is aimed at raising awareness among the global investment community of the opportunities and conditions for investment in Bhutan.
Produced by UNCTAD's Division on Investment and Enterprise and its Division for Africa, Least Developed Countries and Special Programmes, the guide highlights emerging opportunities in infrastructure, tourism, ICTs, agriculture and education. It also provides an assessment of the operating environment, explains investment procedures, and describes the experiences of current investors.
One of the key roles of the guide is to demonstrate that Bhutan is open to foreign direct investment in high-value sectors, and that it is taking steps to modernize its economy and regulatory structures.
Welcoming participants to the meeting, Mr. Tandin Tschering, Director of Industry at the Ministry of Economic Affairs, said that the guide was timely, and that by promoting foreign direct investment, it would help Bhutan fulfil its goals of diversifying and developing the economy.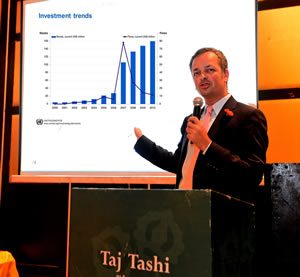 Mr. Ian Richards of UNCTAD, presenting key findings of the
draft Investment Guide to Bhutan at the
stakeholders' workshop
The United Nations Development Programme (UNDP) Deputy Resident Representative, Ms. Hideko Hadzialic, highlighted the role that the guide, as well as associated programmes such as UNCTAD's e-regulations, could play in promoting foreign and domestic investment, in order to meet Bhutan's development challenges, which include employment creation.
Speaking for UNCTAD, the Officer-in-Charge of the Special Programme on Landlocked Developing Countries, Mr. Gunter Fischer, introduced the guides programme, and explained its importance in providing a balanced view of the investment opportunities and conditions in Bhutan.
A presentation of the guide by UNCTAD investment expert Mr. Ian Richards was followed by a rich discussion among those present. The main points related to ensuring that the guide could provide a full and current view of emerging opportunities, and ensuring that it would remain up to date.
It was explained that while the guide would be published in book format, a new online platform for investment guides was being developed, which would enable the Government to update the information at any time.