16 October 2018
Annual general meeting of the Intergovernmental Forum on Mining, Minerals, Metals and Sustainable Development, hosted by UNCTAD, considers ways to tackle new challenges.
A boom in lithium mining, powered by use in lithium-ion batteries, will challenge existing legal and regulatory frameworks in developing countries with reserves of this and other metals, an UNCTAD-hosted meeting heard on 16 October.
Demand for metals and minerals such as lithium is increasing as electric vehicles and other new technologies become more popular, UNCTAD Deputy Secretary-General Isabelle Durant said at the start of the annual general meeting of the Intergovernmental Forum on Mining, Minerals, Metals and Sustainable Development (IGF) in Geneva, Switzerland.
"It seems necessary, in an intergovernmental context such as this one, to design a more coordinated and coherent governance framework, which can ensure more sustainable development of supply chains," Ms. Durant said.
"With its mandate on the exploitation of mining resources and the lifecycle of mines, the IGF seems to me to be the ideal body to launch such a process."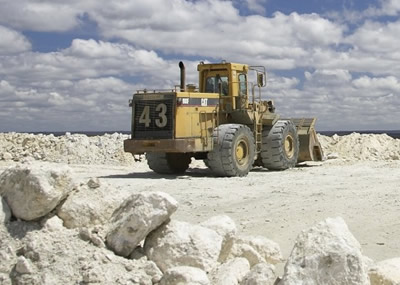 The IGF meeting is an annual opportunity for government officials and representatives from industry, civil society and academia to chart a course for sustainable mining around the globe.
The theme of this year's meeting, taking place 15–19 October at the Palais des Nations, is "Modern Mining Law and Policy: Accountable, Equitable and Innovative Approaches".
The meeting is supported by the International Institute for Sustainable Development (IISD), which has served as the secretariat for the IGF since October 2015, with core funding provided by the government of Canada.
Public-private cooperation
IGF Chair Alexander Medina, director general of mining in the Ministry of Energy and Mines of the Dominican Republic, opened the plenary with a renewed call for sustainability in the extractives sector and public-private cooperation to update the legislative and regulatory environment for the industry.
IISD president Scott Vaughan said that legal reform and review for the mining sector for the world today was at the heart of the work of the IGF.
"Its strength is that it can facilitate peer-to-peer learning among governments," he said. With fraying public confidence in institutions and multilateralism, it was more important than ever to undertake concrete actions that will help the mining sector play its part in meeting the Sustainable Development Goals, he said.
IGF Secretariat director Greg Radford said the grouping now had 68 country members, an increase of 14 in two years. This year's annual general meeting was the largest ever held, he said, with nearly 500 participants from 80 countries, reflecting its multi-stakeholder approach and new interest from governments. More than 40% of the government delegates were women, Mr. Radford said.
Sessions of the five-day event look at, among other issues, global trends in mining law and policy, revision of mining codes, innovative and transparent approaches to generating and accessing geological information, and the future of mining.
Other sessions will consider "climate-smart" mining, "forest-smart" mining, the relevance of internationally agreed voluntary instruments for contract negotiations, best practices in mine closures, innovation in sustainable mining, promoting responsible supply chains, promoting diversification through local content strategies, environmental and social impact assessments, engaging communities in the mine lifecycle, and more.
A session on "New United Nations Tools Supporting Sustainable Mining Policies" on 18 October features panelists from the United Nations Development Programme, the United Nations Economic Commission for Europe, UNICEF and UNCTAD.
The IISD Reporting Service provides comprehensive daily reports of proceedings and photographs of the meeting.