12 February 2015
​UNCTAD holds an informal briefing on "Climate Change, SDGs and Trade: At the crossroads of sustainable development"
Over 150 stakeholders gathered to discuss the role of trade and trade policy in fostering inclusive and sustainable development in ongoing international negotiations and consensus building forums. The meeting emphasized the importance of building bridges between different policy dialogues, including those on climate change, sustainable development and trade, to ensure a systematic, coordinated and coherent approach.
Five multilateral processes and their outcomes were highlighted, namely: the post 2015 development agenda, the sustainable development goals (SDGs), the financing for development conference, the climate change negotiations and the WTO Doha round negotiations. Updates on these processes and key issues discussed were addressed by representatives of UNCTAD, UNFCCC, WTO, the European Commission, the International Institute for Sustainable Development, McKinsey and Company, the Delegation of the Pacific Islands Forum to the WTO and the South Centre.
Keeping track and making sure that there are synergies between the various issues tackled in the different negotiations is both a challenge and an opportunity. The same holds true for ensuring outcomes that enhance development. This needs to be reflected both in the development of common imperatives in the goals and in the follow-up and implementation efforts.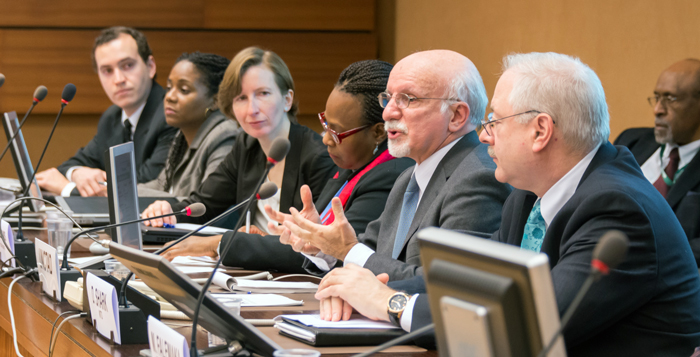 Briefing on Climate Change, SDGs and Trade: At the crossroads of sustainable development, 10 February, Geneva
Participants recognized that the climate change negotiations for a new climate agreement and related supportive mechanisms (financing and technology, among others) is a complex and intense process that would ultimately support an orderly transition to a low-carbon economy globally. Reaching an agreement in Paris this year is not an end in itself but an important step forward in this transformative change.
Likewise, the sustainable development goals that would form the heart of the post-2015 development agenda and its implementation would need to be monitored, audited and discussed to assess their progress. Without a strong reviewing process, we won't be able to see how the different policies and actions taken are making an impact.
In parallel, the WTO Doha agenda needs to conclude, drawing upon the stimulus received from its Bali conference and the adoption of the Trade Facilitation agreement. A work programme on remaining issues in the Doha agenda is critical in this regard.
It was pointed out by UNCTAD, that the role of international trade is specifically noted in some of the SDGs, implicit in others and not specific in yet others like climate change. But what stemmed from this briefing session is that trade is without a doubt a powerful catalyst for sustainable development and that it plays an important role in other crucial processes, including those on climate change. Participants welcomed UNCTAD's initiative to bring together stakeholders from the different global processes to compare notes and discuss interconnecting issues, and the contribution of trade. They also requested UNCTAD to organize other such briefings in the period ahead.