21 July 2017
Written by Amina MohammedDeputy Secretary-General of the United Nations
Trade is a fundamental building block of the economy - but it's going to need to evolve
Trade can be a source of prosperity, new ideas and shared values and ambitions.Today, the world strives to harness globalization in realizing the social, economic and environmental goals embodied in the 2030 Agenda for Sustainable Development.
Making sure that trade plays its part is a must, which means both sustaining it and ensuring its consistency with sustainable development.
Trade can create jobs, promote investment, spread technological progress and speed up communications and connectivity.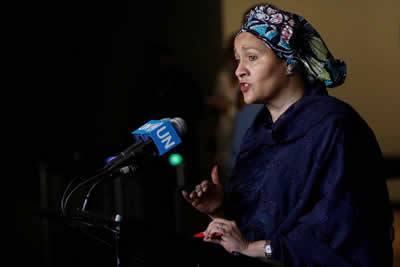 Amina Mohammed, Deputy Secretary-General of the United Nations
In developing countries, from Dhaka to Cape Town, trade has transformed economies over recent decades, lifting hundreds of millions people out of poverty.The resulting progress in human development has been remarkable.
Ten of the Sustainable Development Goals include targets that aim to share trade's benefits more widely. From food security to affordable medicine, and from stopping illegal trafficking to doubling least developed countries' exports, the Sustainable Development Goals offer a far-reaching strategy for transforming trade with positive spillovers for society and the planet.
International markets need to be open, but also need to be managed to ensure that trade does deliver. Trade must not leave people behind, yet today some does just that. The tide of globalization does not automatically lift all boats. Without policies for sharing prosperity, trade can increase inequalities, heightening social tensions and raise the prospect of outright unrest.
Without policies for protecting the planet, trade can weaken ecosystems and compound climate change. When world trade doesn't work for the benefit of all, the promise of globalization is called into question. Trust in governments and in shared values declines, as we have seen with the recent resurgence of populist and isolationist politics.
Trade can be connected to policies that ensure alignment to the 2030 Agenda.
The Ethiopia-Djibouti corridor is an example of an integrated approach to enhancing transit, transport and trade facilitation to enable both countries to enhance its export capacities, attract quality investments, and develop quality trade and port services by developing its 'soft' infrastructure of enabling institutions, human capabilities and rules.
China's "One Belt, One Road" initiative must exemplify the type of "win-win" trading infrastructure called for by the Sustainable Development Goals. Done right, such an initiative will open up new trading opportunities to landlocked countries that today struggle to participate in trade's benefits.
The G20-Africa partnership, launched under the German G20 Presidency, can be another case in point, linking development assistance, to infrastructure investment and in turn enhanced intra-continental and international trading opportunities.
Harnessing trade requires us to understand that it is changing shape as globalization enters a new era. Some of the comparative advantages that enabled developing countries to grow and prosper through global trade, including low wage economies and weak environmental stewardship, are diminishing in importance.
Automation will reduce the potential for economic success through cheap labor-based exports. Similarly, enhanced environmental and related public health awareness, and commitment to addressing climate change, will thankfully reduce the interest in going for short-term success by causing long-term, often irreparable damage to people, the planet and economies.
Production of many goods and services will move closer to the consumer, benefiting larger countries and those regions of smaller nations that have successfully moved towards greater economic integration. Recycling, once mainly the voluntary privilege of well-off, urban consumers, is set to become the hallmark of vibrant, successful businesses, communities and entire economies that embrace the 'circular economy'.
In the future, we will buy less that is produced thousands of kilometers away, and in fact own less, renting more products as services - from cars to bottles and shirts. Local, national and regional economies can flourish under such circumstances, enabled by the new digital context that will strengthen, for example, low cost financing, accessing markets and the accountability of both market and policy actors.
The 2030 Agenda for Sustainable Development provides the shared values and goals that can guide our extraordinary dynamism and innovation in shaping the next phase of globalization.
Trade will always be a fundamental building block of the global economy. Yet its form and impacts will evolve in response to technology, business and policy innovation. The task of the United Nations with United Nations Conference on Trade and Development as the spearhead is to support its member states in shaping this evolution to ensure that the 2030 Agenda is realized.