22 July 2014
​The Colombian Securities Exchange (BVC for its Spanish initials) today announced that it will partner with the United Nations Sustainable Stock Exchanges (SSE) initiative. Colombia is now the second Latin American exchange to join the SSE, along with ten others from the US, Europe, Africa and Asia. This diversification enables shared learning, with sustainable business practices reaching greater parts of the world.
Juan Pablo Córdoba, CEO of BVC said, "BVC recognizes the relevance of sustainability for the private sector, which is why it has proposed raising initiatives to foster the knowledge and skills needed in the market to face the challenges of sustainable and responsible investment. All this, with the vision set on creating long-term value for the prosperity of Colombia and the region."
"UNCTAD's Action Plan for investment in sustainable development includes the promotion of sustainable stock exchanges around the world," said James Zhan, Director of UNCTAD's Investment and Enterprise Division. "In this context, we're very happy to welcome the Colombian Securities Exchange to the SSE." The UNCTAD 2014 World Investment Report outlines UNCTAD's Action Plan for investing in the sustainable development goals.
Colombia's securities industry is currently the fourth largest in Latin America. BVC has alliances both in and outside Colombia and is also a member of the Latin American Integrated Market (MILA for its Spanish initials). Its stock exchange alliances include the Colombian Stock exchange, Santiago Stock Exchange, and Lima Stock Exchange.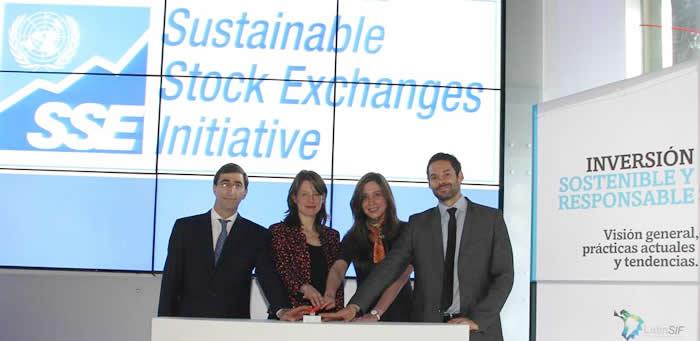 Juan Pablo Córdoba (left), President of BVC, announcing joining the SSE
BVC is also member of the World Federation of Exchanges (WFE) and it is currently a permanent member and elected President of the Ibero American Federation of Stock Exchanges (FIAB for it Spanish initials). BVC's partnership with the SSE allows for greater representation of Latin America in this global initiative.
BVC announced its partnership with the SSE during the opening bell ceremony, followed by the official launch of its new guide to responsible investment and the Latin American Sustainable Investment Forum (LatinSIF).
Join the conversation on capital markets and sustainable development at the SSE's 2014 Global Dialogue, which takes place on 14 October in Geneva as part of UNCTAD's World Investment Forum which runs from 13-16 October.
The SSE is co-organized by UNCTAD, the UN Global Compact, the Principles for Responsible Investment and UNEP Finance Initiative. To become a Partner Exchange, please contact [email protected].