03 September 2021
Written by: By Arántzazu Sánchez Belastegui, Article No. 79 [UNCTAD Transport and Trade Facilitation Newsletter N°100 - Third Quarter 2021]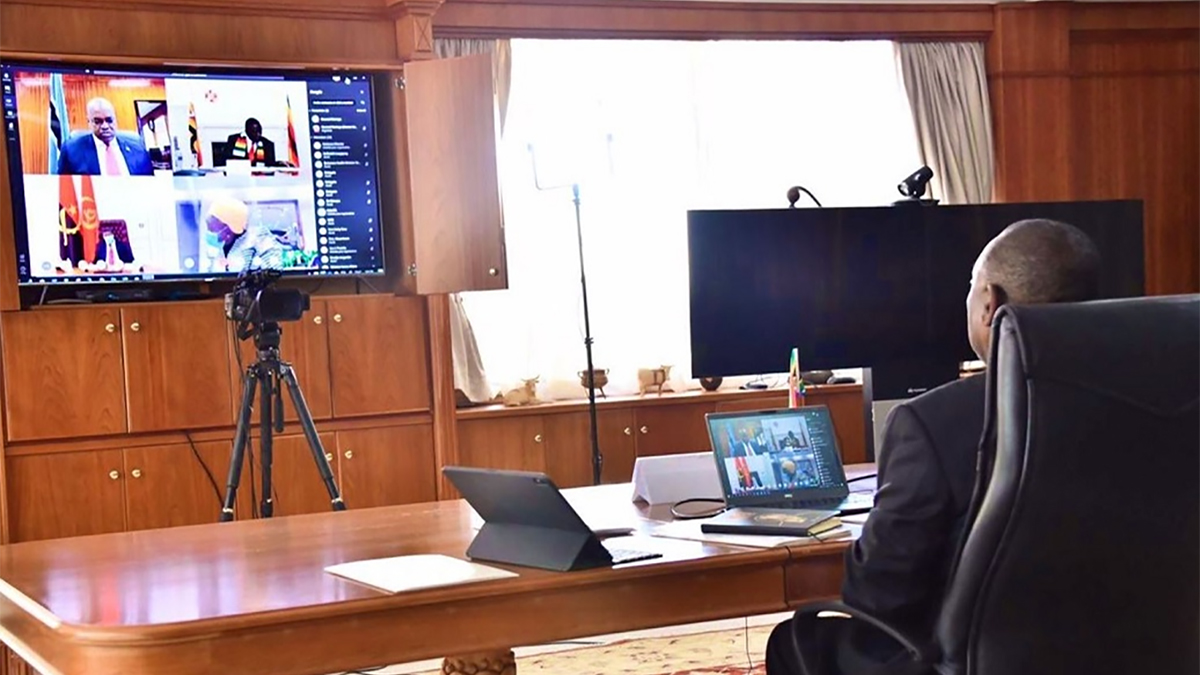 "I am sincerely sorry for not having been able to attend the 3rd and 4th sessions of the e-learning webinars. I am totally overwhelmed, taking care of COVID patients in the hospital". This apology from a member of the National Trade Facilitation Committee of Madagascar reached my inbox last month (May 2021). It is proof that the pandemic is still a daily disrupter in the life of many public and private trade facilitation stakeholders in the not so lucky corners of the world. This member represents the interests and needs of the Food Safety and Quality Control Agency in the Madagascar Trade Facilitation Committee, a body that coordinates the implementation of the WTO Trade Facilitation Agreement as well as other trade facilitation reforms in the African Island State. But she also happens to be a medical doctor by training, making her an indispensable asset in Madagascar's efforts to fight against COVID-19.
Conflicting priorities seems to be a constant in the "new normal" for many of us. But what else has changed in the way National Trade Facilitation Committees (NTFCs) operate? What should we learn from it?
This article reflects on how the work dynamics of National Trade Facilitation Committees with donors and development agencies have shifted due to the Pandemic and how we can all contribute to turn this disruption into something positive.
The bumpy side of the road
In 2020, the COVID-19 pandemic became a double-edged sword for National Trade Facilitation Committees, especially in developing and least developed countries. On the one hand, Committees were unable to meet and work as usual. On the other hand, covid-19 critical medical equipment and medicines were piling up at border crossings, making the urgency of accelerating the implementation of the trade facilitation reforms painfully visible. There was (and is) so much to do and, sometimes, so little means to do so.
In 2020, many development agencies (if not all) had to reinvent themselves, creating new methodologies to support beneficiary countries remotely. In the future, hybrid work (in country missions coupled with online events) will certainly be the norm, but until then…no more crowded airports, visas or passenger controls.
Thanks to this, National Trade Facilitation Committees in developing and least developed countries have gained access to a wider and more varied range of experts to support them. This could definitively help accelerate the implementation of the WTO Trade Facilitation Agreement, as several developed countries have recently requested at the WTO. However, this blessing risks to turn into a heavy burden if no precautionary measures are taken. In times when virtual meetings have overtaken our lives, when we all have the impression that we must be reachable at any time and every time, we should be talking more about absorption capacity. Trade facilitation stakeholders can feel squeezed between their daily job obligations and the increasing exigencies (specially in terms of availability) of international counterparts.
Building together a highway of trade facilitation reforms
Is there anything we can change to address the issue of absorption capacity? As individuals? As organizations? Yes, there is. These are a few concrete recommendations for NTFCs, development agencies (yes, I promise to apply those also to myself) and donors.
What could National Trade Facilitation Committees do?
Plan wisely events in time, ensure meetings do not conflict with each other.
Be punctual: on average, 5 to 10 minutes are lost in each virtual meeting just waiting for people to join. Cumulatively, this is a lot of time for all attendees.
Be frank: state clearly to counterparts what is possible and what is not.
Don't be silent: inform in advance if you cannot meet and proactively propose a new date.
What could development agencies do?
Be empathic: understand the limitations and constraints that your partners are facing in developing and least developed countries. Be sympathetic and supportive.
Be concise: if the issue you want to discuss can be addressed in 20 minutes, do not schedule a one-hour meeting. Be mindful of people's time. Always.
Innovate: we are all facing virtual meeting tiredness. Try to be innovative when you present and adapt your technical support to the new reality.
Encourage national capacity: For many of our projects, national consultants have become our eyes and ears on the ground, building national capacity and creating jobs in the field.
In UNCTAD, we have shifted our technical assistance from an event-driven training package, to a self-paced coached centric approach, with the help of digital tangible tools, such as UNCTAD Reform Tracker and our newly launched e-learning platform.
What could donors do?
Be flexible: Listen to beneficiary countries and development agencies and create enabling frameworks to address the new evolving needs that the Pandemic has brought to them.
Think long term: Absorption capacity is really an issue and short-term projects are not helping. Even if the financial support is not much, opt always for long term projects, that will allow development agencies to adapt to the pace of beneficiary countries.
The new normal can be a highway to implement trade facilitation reforms in developing and least developed countries. However, the road will remain empty if counterparts do not have any vehicles to drive on, or if we do not allow ourselves enough time to learn how to drive.
---
Further information: UNCTAD e-learning for National Trade Facilitation Committees | UNCTAD Empowerment Programme for National Trade Facilitation Bodies or
Contact the author: Arantzazu Sanchez | Economic Affairs Officer, UNCTAD Trade Facilitation Section | Arantzazu.sanchez@unctad.org
---
Disclaimer
This site may contain advice, opinions and statements of various information providers. The United Nations does not represent or endorse the accuracy or reliability of any advice, opinion, statement or other information provided by any information provider, any User of this Site or any other person or entity. Reliance upon any such advice, opinion, statement, or other information shall also be at the User's own risk. Neither the United Nations nor its affiliates, nor any of their respective agents, employees, information providers or content providers, shall be liable to any User or anyone else for any inaccuracy, error, omission, interruption, deletion, defect, alteration of or use of any content herein, or for its timeliness or completeness, nor shall they be liable for any failure of performance, computer virus or communication line failure, regardless of cause, or for any damages resulting therefrom.