24 June 2020
The project aims at reducing maritime trade costs by improving customs administrations access to advance cargo information and increasing efficiencies in customs clearance processes.
The "Digitizing Global Maritime Trade" (DGMT) project has been launched on 15 June 2020 after being approved by the develoPPP program of the German Federal Ministry of Economic Cooperation and Development (BMZ).
The project aims at:
Increasing efficiencies in the international transport documentation process

Reducing the time and cost of maritime trade for importers and exporters

Streamlining the risk management process by increasing custom's digital access to advance sea cargo information during the clearance processes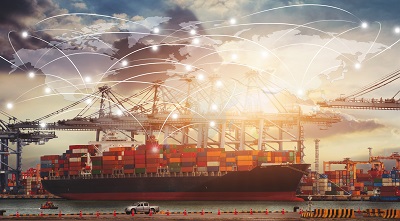 The DGMT project will implement a specialised data integration solution called ASYHUB, currently being developed by UNCTAD's customs reform and automation programme (ASYCUDA). Designated pilot countries are Cambodia and Sri Lanka. ASYHUB helps to create a seamless exchange of cargo data between a country's customs system and multiple trade data providers. 
Trade data providers and members of the trading community are invited and encouraged to join throughout the course of the project. The TradeLens platform is already engaged as a project partner, providing advance sea cargo data to test the data integration with ASYHUB. Following the pilot applications in Sri Lanka and Cambodia, experiences will be shared with other countries to scale up the approach to further countries.
A digital future delivering development gains 
The submitted advance sea cargo data will allow customs administrations to conduct risk analysis earlier to determine which cargo to inspect, and which cargo to release as goods arrive, ultimately reducing total transit times for companies. Reducing transit and dwell times are associated with trade growth and subsequently GDP growth and job creation. 
The results of the DGMT project will enable any ASYCUDA–using country and data provider to exchange data on trade through any mode of transport – air, water or land – presenting a potentially huge impact on time and cost of international trade.