29 November 2013
UNCTAD and other Geneva- Trade hub agencies must find ways to harness trade and the private sector to make sure that the post-2015 strategy for helping poor countries is sufficiently supported by economic forces, experts said.​
At a first Geneva Dialogue on the Post-2015 Sustainable Development Agenda - with a number of other sessions anticipated over the coming two years - UNCTAD Secretary-General Mukhisa Kituyi said that the sustainable development goals expected to be adopted should include sufficient emphasis on the development portion of the term.
"So far, there's a very big 'S' and a very small 'D'" in the post-2015 discussions, he told the meeting. "We need a larger 'D'." He added that the Geneva dialogues should "give oxygen to substantial, horizontal engagement" involving trade-focused agencies, the business community, and civil society in establishing "the critical narrative that will shape development for the next twenty years."
Amina J. Mohammed, Special Adviser to the United Nations Secretary-General on Post-2015 Development Planning, told the gathering that ongoing talks at UN Headquarters in New York "are looking for Geneva-based input that will provide a reality check."
"Here in Europe we really will look to see how we will re-define partnerships," she said. "We need business to be engaged, but business will join only if it makes sense to the bottom line."
She went on to speak of the role to be played by such economic forces as trade, investment, and technology transfer in achieving improved living standards and better environmental conditions.
"This will have to be a transformational agenda," she told the meeting. "It must bring results at the country level. It must make economic sense, business sense, and moral sense. It must connect people to decent livelihoods and decent jobs."
She characterized the approach of the Millennium Development Goals as "not a bad prescription, but not a full cure." The transformational character anticipated for the post-2015 goals should be different, she said - "involving everyone; not a matter of looking from North to South but a matter of looking in the mirror."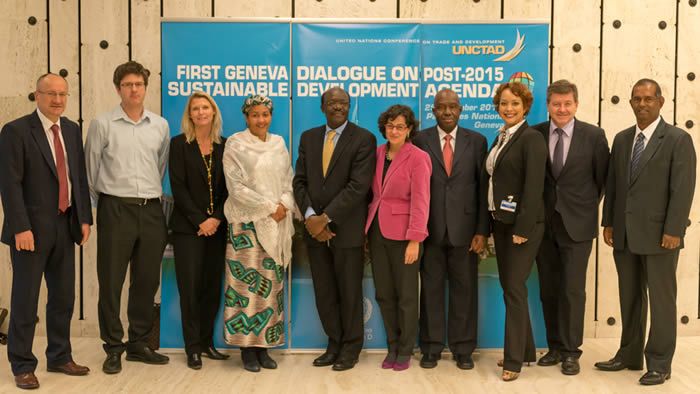 First Geneva Dialogue on post-2015 Sustainable Development Agenda
From left: Mr. Petko Draganov (Deputy S-G of UNCTAD), Mr. Stephen Hale (Head of the Geneva office of Oxfam), Ms. Carina Larsfälten (Chief International Relations Officer of WBCSD), Ms. Amina J. Mohammed (Special Adviser of the UN Secretary-General on Post 2015 Development Planning), Dr. Mukhisa Kituyi (Secretary-General of UNCTAD), Ms. Arancha González (Executive Director of ITC), Mr. Yonov Frederick Agah (Deputy Director General of WTO), Ms. Melissa de León (Chief Executive, Tropical Panamá Gourmet Inc.), Mr. Guy Ryder (Director General of ILO) and Mr. Dumindra R. Ranayaka (CEO of Etisalat Lanka (Pvt) Limited)
Also contributing to the morning's dialogue were a number of representatives of the business community (or private sector), reflecting the realization that true sustainable development - comprising durable economic gains, job creation, and protection of the environment - will require a united effort. Not only governments and the international community, but profit-focused firms, which account for the vast majority of employment and drive the creation of most new technologies, have to work together, these speakers said.
The dialogue was held shortly before Dr. Kituyi was scheduled to travel to Bali, Indonesia, for events related to the Ninth World Trade Organization Ministerial Conference of the Doha Round of trade negotiations.
The post-2015 development agenda has become the focus of intense discussion by the United Nations and its member States. The Millennium Development Goals (MDGs), established in 2000, have a deadline of 2015, and the mixed results obtained have international decision makers debating how to take a more efficient and effective approach in the years that follow.
An UNCTAD policy brief issued this week contends that "most of the discussion of the post-2015 agenda has continued the Millennium Development Goals' focus on social deprivation" -- on such topics as extreme poverty, health, and education - while "little attention has been given to the mobilization of resources needed at the national and global levels to meet any new goals, and almost none to the systematic constraints on inclusive growth and development. It remarks that in the MDGs, global economic issues were restricted to Millennium Development Goal 8 on the global partnership for development, "which was much weaker and less specific than the Goals for social outcomes."
In a 25 November speech to the Fifth Session of the Open Working Group on Sustainable Development Goals, held at United Nation Headquarters in New York, Dr. Kituyi said "Ultimately, the MDG achievements can only be sustained if they are underpinned by inclusive economic growth and a process of structural transformation."
Also speaking at the Geneva dialogue were representatives of other Geneva-based agencies focused on trade, employment, and related inputs to economic growth. They included Guy Ryder, Director-General of the International Labour Office; Arancha Gonzalez, Executive Director of the International Trade Centre; and Yonov Frederick Agah, Deputy Director-General of the World Trade Organization.
Providing input from the private sector and from civil society were Carina Larsfalten, Chief International Relations Officer of the World Business Council for Sustainable Development; Melissa de Leon, Chief Executive of Tropical Panama Gourmet Inc., and winner of the UNCTAD Empretec Women in Business Award 2012; Dumindra Ratnayaka, Chief Executive Officer of Etisalat Lanka (Pvt) Limited of Sri Lanka; and Stephen Hale, Deputy and Advocacy Campaigns Director of Oxfam International.