06 July 2020
A new UNCTAD eTrade for Women masterclass seeks to empower and build the skills of women digital entrepreneurs in the region as well as explore opportunities amid the COVID-19 crisis.
eTrade for Women advocate for anglophone Africa, Clarisse Iribagiza from Rwanda.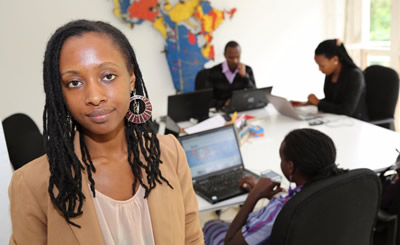 The first virtual masterclass for East African women digital entrepreneurs, to be held from 8 to 10 July, is well timed to advance this cause.
Advocates from UNCTAD's eTrade for Women initiative are working hard to ensure women digital entrepreneurs in the developing world are building both the network and resilience they need to thrive in the digital economy now and in a post-coronavirus context.
It brings together women founders of digital businesses from Kenya, Rwanda, Tanzania and Uganda, reflecting the dynamism and variety of the digital landscape in the region.
The women share the drive to acquire new skills, make a positive impact in their communities and help them recover better from the economic blow of COVID-19.
While the pandemic is a human health and economic tragedy, it is also an accelerator for digital transformation and e-commerce.
"We need to use this moment to ensure women, especially those in the developing world, have a seat at the table and are able to harness the digital gains," said Shamika N. Sirimanne, UNCTAD's technology and logistics director.
The e-commerce potential
Following the first two in-person masterclass sessions in North Macedonia and Côte d'Ivoire, the masterclass for East Africa seeks to tap into and build on the digital momentum in the region.
Like much of Africa, the region has low internet penetration. According to the International Telecommunication Union, in 2019 only 28% of Africans used the internet.
Of the total African population, 34% of those using the internet are men, while only  23% are women.
Online shoppers are also relatively few. In sub-Saharan Africa, for example, Kenya, Mauritius, Namibia and South Africa are the only countries where the share of online shoppers exceeds 8%. In most other countries, it is below 5%.
Internet subscriptions and smartphones are relatively costly, contributing to the low rates of e-commerce in the region. Other factors include weak and unsupportive policy and regulatory frameworks.
However, with the coronavirus pandemic accelerating digital transformation globally, the window of opportunity offered by e-commerce is widening.
Learning to thrive in times of crisis
The three-day event targets established women digital entrepreneurs from selected East African countries and includes networking, learning and policy engagement sessions. 
It will be hosted by eTrade for Women advocate for anglophone Africa, Clarisse Iribagiza from Rwanda, CEO and co-founder of HeHe Limited, in conjunction with eTrade for all partners, thanks to support from the Netherlands.
Emphasizing the role of the digital economy in promoting development, Ms. Iribagiza said small businesses need technology to level up.
"Small businesses create lots of jobs and help solve local problems," she said. "But they face many challenges such as high cost of production, lack of access to energy and poor infrastructure. Technology can help reduce their costs and enable them to operate more efficiently."
Ms. Iribagiza said the masterclass would help women digital entrepreneurs better harness the benefits of the digital transformation of their economies and societies.
Tackling urgent business needs
The masterclass will tackle the entrepreneurs' most urgent business needs, from designing a value proposition canvas to rebooting business post-COVID-19 and going from local to regional markets, offering them practical solutions for their businesses.
Experienced trainers will lead sessions tailored to help the entrepreneurs thrive in the digital economy while operating more resilient businesses in times of crisis.
In addition, the event is a unique opportunity to examine gender-related challenges and foster more inclusive policymaking. 
It includes a high-level policy dialogue on creating a vibrant digital economy in times of COVID-19, which will feature case studies and best practices from some East African countries.
The session to be held on 10 July is open to the public and will be broadcast live.
The masterclass is one of the ways that UNCTAD is helping build communities of female digital entrepreneurs in developing countries, while advocating for an environment conducive to more inclusive digital policymaking.
The eTrade for Women initiative is supported by the Netherlands and Sweden in cooperation with eTrade for all partners.