22 March 2019
Written by:Nina Angelovska, Co-founder and CEO at Grouper.mk
Why science, technology, innovation matters and what 'eureka moment' made you choose a STEM career?
I fell in love with the big "E" during my e-business studies. It was a newly introduced at the Faculty of Economics at Saints Cyril and Methodius University in Skopje, Macedonia.
I was looking to the future I was excited to learn about the new technologies.
Since then and over the years I became very passionate about another "E". E-commerce that was just beginning to develop at that time.
Just before graduating in 2010, I won the most innovative business plan competition and got a small funding grant to launch my business.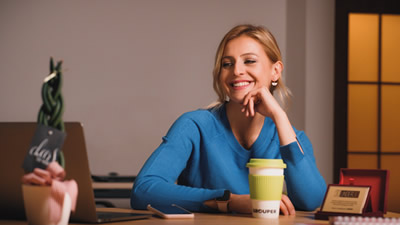 I am not sure if I can call it my "eureka moment" but that "win" was the key incentive for me to begin my entrepreneurial journey and launch Grouper.mk, the first deal platform in North Macedonia. It transformed the e-commerce industry in Macedonia and became known as the e-commerce game-changer.
My career path in the digital world happened very naturally, or to put it in digital marketing words very "organically". I believe that my hard work, dedication, motivation, passion, constant learning and thirst for change made me what I am today. The digital world has by far greater potential to be more equal, less prejudiced and more inclusive than the traditional one.
I believe that the only way for advancement and progress of developing countries is by embracing digitalization and becoming a smart and connected nation.
And e-commerce is an integral part of that digital world. The e-world is yet to change our lives and the biggest challenge we are facing now is building capacities and teaching digital skills.
Also, I believe, the other big challenge standing in front of us as we embark on our digital transformation journeys, is how to foster morale.
How are we going to preserve true values and not let things get out of control?
Share a career anecdote and message about how you would like to see the world change as a result of workplace gender parity.
"The sky's the limit" should hold true for every single person in this world, regardless gender, color, ethnicity or religion. I would like to see a world where knowledge, competence and passion are the only differentiators. I would like to see that thick "glass ceiling" break and removal of "limits" for women. We need women's potential, knowledge, care and leadership to make this world smarter and better for everyone.
---
Links:
Co-founder and CEO at Grouper.mk, the leading e-commerce platform in North Macedonia
President of the Macedonian Ecommerce Association
Forbes 30 Under 30 in Retail and Ecommerce, Europe 2018 and Forbes Contributor
Chairman of the Macedonian Annual Ecommerce Conference
Women in STEM: Changing the narrative
Women have been left out of much more than innovation, science, technology, engineering, and mathematics careers, but these are the sectors that imagine, design, build and code our future.
UNCTAD's Women in STEM campaign showcase incredible everyday innovators, engineers, change-makers and disruptors in their fields to tell their stories so that others may follow in their footsteps.