04 May 2017
The Friends of E-commerce for Development (FED) met for the first time during the third UNCTAD E-commerce Week and agreed to develop a comprehensive, long-term digital Trade policy agenda.
The ministers from Friends of E-commerce for Development (FED) members, namely Argentina, Chile, Colombia, Costa Rica, Kenya, Mexico, Nigeria, Pakistan, Sri Lanka, Uruguay, acknowledged E-Commerce as a tool to drive growth, narrow the digital divide and generate digital solutions for Developing and Least Developed Countries (LDCs).
"We are proud to host this ministerial meeting and welcome your efforts at advancing the discussion on the link between e-commerce, trade and development', said UNCTAD Secretary-General Mukhisa Kituyi.
Dr. Kituyi added that it was imperative to find together ways to bridge the digital divide, notably by helping developing countries to overcome remaining barriers and to enhance their e-commerce readiness.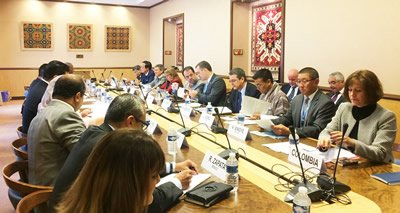 Global estimates of e-commerce confirm that e-commerce is growing faster than we thought. E-commerce sales reached more than $25 trillion in 2015, according to UNCTAD.
In their first gathering, Ministers from FED member countries presented a roadmap with seven key issues considered as the foundation for sustainable economic development discussions as well as any other upcoming discussions on digital trade within UNCTAD, but also in the WTO with this year's 11th Ministerial Meeting to be held in Argentina.
"The roadmap marks an important milestone on the road to the 11th WTO Ministerial in Buenos Aires in December and it will certainly help shape the debate on outcomes for the meeting - and beyond," said Susana Malcorra, Minister of Foreign Trade of Argentina.
The key issues of the roadmap, which coincide with the focus of eTrade for all, include:
Identification of strategies for e-commerce readiness
Access to ICT infrastructure and services
Trade logistics and trade facilitation
e-payment solutions
Legal certainty and regulatory frameworks
Capacity building and technical assistance
Access to financing
WTO Invited Ministers from other developing economies, not currently members of the group to join the discussion and applauded the efforts that the FED Group has been engaged in to create awareness by sharing national experiences, taking into consideration the concerns of least-developed countries.
The FEDs are a diverse, non-negotiating, group of WTO Members and UN Member States at different levels of development, with a common understanding and acceptance of the positive impact of e-commerce and its versatility to create sustainable economic opportunities for all.
UNCTAD is committed to support the FEDs in all their upcoming activities to boost trade and development for All.