01 February 2017
Global flows of foreign direct investment (FDI) fell 13% in 2016 to an estimated $1.52 trillion as global economic growth remained weak and world trade volumes posted anemic gains, according to the latest UNCTAD Global Investment Trends Monitor.
"FDI recovery continues along a bumpy road. Particularly of concern is the sharp drop-off in manufacturing investment projects, which play such an important role in generating badly needed productivity improvements in developing economies," UNCTAD Secretary-General Mukhisa Kituyi said.
"Looking ahead, economic fundamentals point to a potential increase in FDI flows by around 10% in 2017," Dr. Kituyi said. "However, significant uncertainties about the shape of future economic policy developments could hamper FDI in the short-term."
The decline of FDI in 2016 was not equally shared across regions, reflecting the heterogeneous impact of the current economic environment on countries worldwide.

Download:
Quick links:
FDI flows to Europe fell 29% to an estimated $385 billion, with a number of countries experiencing strong volatility in their inflows. This decline was tempered by modest growth in flows to North America (6%) and a sizeable increase in investment in other developed economies, principally Australia and Japan.
Slowing economic growth and falling commodities prices weighed on FDI flows to developing economies. Inflows to these economies fell 20% (to an estimated $600 billion) due to significant decreases in developing Asia and in Latin America. Nevertheless, developing economies continue to comprise half of the top 10 host economies. FDI flows to transition economies rose by 38% to an estimated $52 billion.
The wave of cross-border mergers and acquisitions shows signs of ebbing. A 13% increase in the value of net sales, which rose to $831 billion, pales when compared to the 67% and 68% increases registered in 2014 and 2015. Greenfield FDI project announcements value rose by 5%, but this was largely due to a handful of very large projects in a few countries. The vast majority of countries, in contrast, registered declines.
Regional contribution to global FDI flows, 2015–2016
(Billions of US dollars)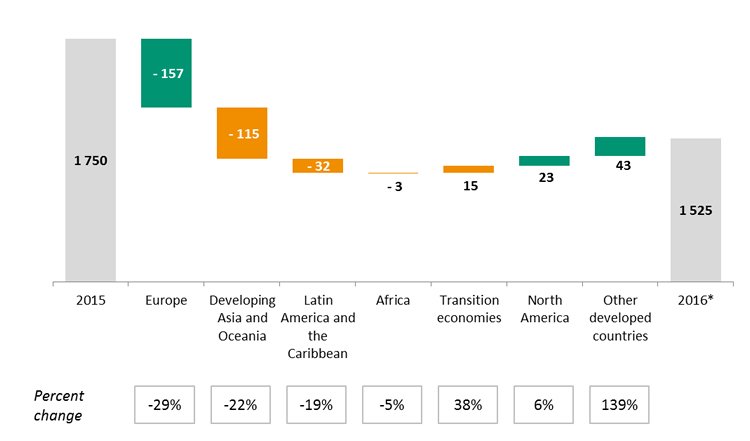 Estimated FDI inflows: top 10 host economies, 2016
(Billions of US dollars)