12 June 2019
Least developed countries recover, led by Asia, while small island developing states contract again as flows to Caribbean and African islands flounder.
Foreign direct investment (FDI) flows to structurally weak and vulnerable economies continued to account for 3% of the global total, according to UNCTAD's World Investment Report 2019.
"The recovery in investment to structurally weak countries is heartening, especially since these countries escaped the general global downturn in flows," UNCTAD Secretary-General Mukhisa Kituyi said.
"However, if we are to maintain fidelity to the Sustainable Development Goals, especially those that seek to end poverty and reduce inequality, we need more robust FDI flows to these economies," he cautioned.
Least developed countries
Flows to the 47 least developed countries (LDCs) recovered from their 2017 fall, back to US$24 billion, the average for the past decade.
Although FDI in African LDCs recovered from a historical low in 2017 to $12 billion (up 27%) in 2018, it remained more than 40% below the annual average of 2012–2016.
In contrast, Asian and Oceanian LDCs led by Bangladesh (up 68% to $3.6 billion), recorded a new high in FDI flows (up 8% to $12 billion).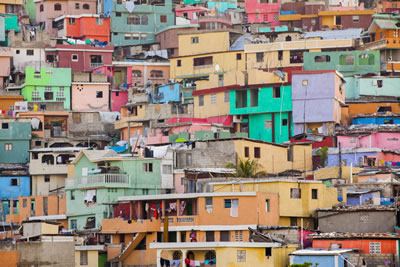 Houses on a hillsides in Port-au-Prince, Haiti
Download:
Regional & Country Data:
Flows to LDCs remained marginal, representing 1.8% of global FDI.
FDI to LDCs remain concentrated in larger FDI recipients and limited to a few sectors.
Trends in announced greenfield FDI projects suggest that the more sizeable investments will target natural resources in Africa and power generation projects in Asia.
Landlocked developing countries
After a temporary recovery in 2017, FDI flows to the 32 landlocked developing countries (LLDCs) declined again in 2018, by 2% to $23 billion.
In transition-economy and most Asian LLDCs, the decline was modest, while Latin American LLDCs experienced a more pronounced downturn.
Flows to LLDCs remained concentrated in a few economies, with the top five recipients (Kazakhstan, Ethiopia, Mongolia, Turkmenistan and Azerbaijan) accounting for 56% of total FDI to the group.
Chinese MNEs are increasingly active sources of investment and are present in practically all LLDCs.
Prospects for FDI vary according to LLDCs' level of development and industrialization, with the fastest growth expected in those with more potential for economic diversification, such as Ethiopia and the Lao People's Democratic Republic.
Small island developing states
FDI flows to the 28 small island developing states (SIDS) slipped for a second year to $3.7 billion, with an 11% contraction in the Caribbean SIDS.
FDI in Asian and Oceanian SIDS stagnated at $1 billion.
FDI flows to African SIDS fell by 22% to $620 million.
Flows to the three largest recipient economies (Bahamas, Jamaica and Maldives) accounted for more than 60% of the group total.
FDI flows into SIDS will remain fragile and dependent on a few capital-intensive projects.
The trends in announced greenfield projects suggest further concentration of FDI in a narrow range of industries in the services sector (e.g. business activities, hotels and restaurants).
Some SIDS are undertaking new special economic zone projects to accelerate economic diversification and promote sustainable growth.
LDCs: Top 5 recipients of FDI inflows, 2017 and 2018
(Millions of dollars)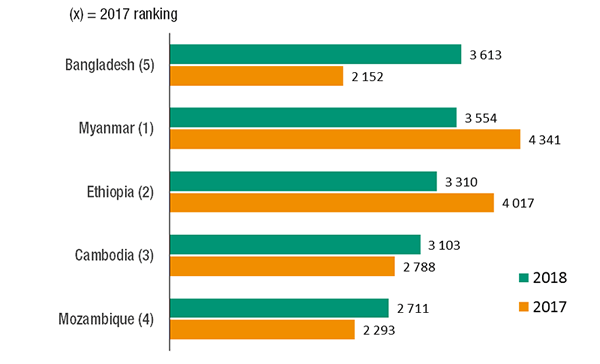 LLDCs: Top 5 recipients of FDI inflows, 2017 and 2018
(Millions of dollars)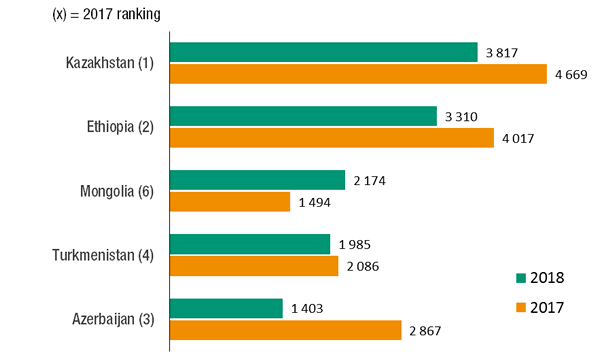 SIDS: Top 5 recipients of FDI inflows, 2017 and 2018
(Millions of dollars)