29 April 2013
Joe Costello, Minister of State at Ireland's Department of Foreign Affairs and Trade,  has completed a visit to the United Republic of Tanzania at which he reviewed the impact of the UNCTAD Port Training Programme.​
Ireland has provided extensive support over the years for the Port Training Programme, which is part of UNCTAD's TrainForTrade technical assistance programme. Financial support for the training is provided by Irish Aid - the Irish Government's programme of assistance to developing countries. Dublin Port Company and the Port of Cork also support the programme, as do the Belfast Harbour Commissioners.
During his official visit to the United Republic of Tanzania, Mr. Costello, who has responsibility for trade and development issues, met with representatives of Tanzania Ports Authority and toured the port of Dar es Salaam. He and his delegation were received by the Acting Director General of Tanzania Ports Authority, Mr. M. J. Kipande, and his management team.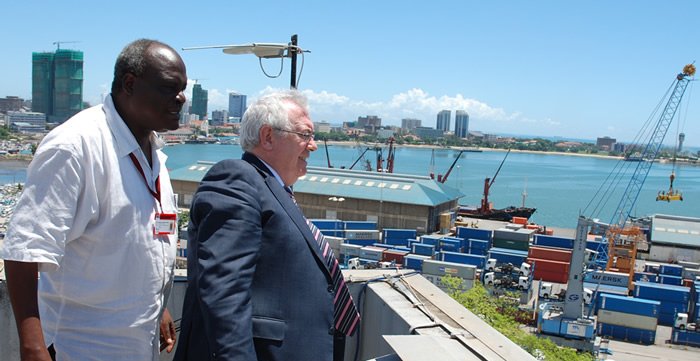 Minister Costello overlooking Dar es Salaam Port during the guided tour provided by Tanzania Ports Authority
Tanzania Ports Authority is one of the pilot members of the Port Training Programme. The Authority successfully finished its second training cycle in December 2012. At that time, 16 middle-level managers from Tanzania Ports Authority successfully defended their dissertations and received UNCTAD Port Management Certificates.
The Port Training Programme has directly benefited more than 70 port operators in the United Republic of Tanzania since its inception in 2008. Worldwide, the programme has been carried out in 20 countries and has trained some 1,750 port managers.
During his visit, Mr. Costello stressed the importance of increasing trade flows between the two countries:
"We also have to look to the next phase, when our development partners will be our markets and trading partners. I look forward to visiting Irish commercial projects and to meeting with the Irish and local business community to discuss how we can continue to increase the trade volumes between Ireland and the United Republic of Tanzania. It is only by growing two-way trade that we will help African countries reduce their dependence on aid. I would encourage all Irish companies to look to the potential of the African market."
The UNCTAD TrainForTrade Port Training Programme supports port communities in developing countries in their quest to achieve efficient port operations. The effective management and operation of such ports can significantly increase trade flows, speed business operations, and lead to durable economic development.