25 May 2018
​From 15 to 18 May, UNCTAD, United Nations Statistics Division (UNSD) and the Association of Caribbean States (ACS) hosted a regional workshop on International Merchandise Trade Statistics (IMTS) in Port of Spain (Trinidad and Tobago).
This workshop marks the end of the development phase of a new online or e-learning course on 'International Merchandise Trade Statistics' developed by UNCTAD under the auspices of the UNCTAD TrainForTrade programme. The workshop provided face-to-face training, including hands-on exercise sessions and discussions, for IMTS compilers. It also facilitated the transfer of knowledge and experience between agencies and provided an occasion to review the outcomes of the development phase with course participants. Participants comprised representatives from UNCTAD with Mr. Onno Hoffmeister, UNSD with Mr. Markie Muryawan and ACS with Mr. Arturo López Portillo Contreras , the course instructor, and twenty-four statistics compilers from Caribbean countries who had successfully passed the online tests as well as statisticians from CARICOM and Statistics Canada.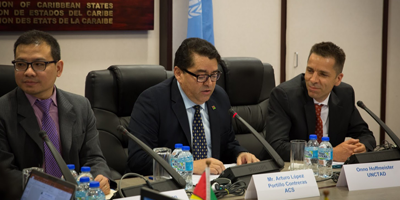 The workshop revealed high satisfaction among course participants with most of the online training modules (satisfaction rates above 80%) and also yielded useful suggestions for further improvement. The workshop highlighted the particular challenges faced by IMTS compilers in Caribbean statistical agencies, and allowed space for an exchange of best practices among participants to overcome these challenges. Presentations from UNCTAD, UNSD and CARICOM enhanced the statistics producers' understanding of the purposes for which their data are being used and of the rationales behind the various data requests from UNSD.