09 May 2018
UNCTAD, the UN Economic Commission for Europe and the governments of Kazakhstan and Kyrgyzstan launch databases on non-tariff measures, making the countries' trade rules more transparent.
UNCTAD and the UN Commission for Europe (UNECE) have worked with the governments of Kazakhstan and Kyrgyzstan to build a comprehensive database on the countries' policy measures that can have an impact on trade.
The governments decided to integrate their national data on non-tariff measures (NTMs) into UNCTAD's global NTMs database TRAINS – which stands for Trade Analysis Information System – as part of broader reform efforts to remove regulatory and procedural barriers to trade in the countries, building on recommendations from UNECE studies on the issue.
International traders had complained that information on the countries' trade-related regulations was spread among different ministries and agencies and not updated, and that this increased trade costs. Another complaint was that the information was only available in Russian.
The database, launched during the UNECE Steering Committee on Trade Capacity and Standards, held in Geneva from3-4 May, will improve transparency, making trader's lives easier and reducing transaction costs. More transparent information on possible barriers to trade will also help the countries attract foreign investment and integrate better into global and regional markets.
"Kazakhstan and Kyrgyzstan have already signaled their interest in conducting further analysis that supports regional and global integration", Ralf Peters, chief of UNCTAD's trade information section, said.
Good company
The NTM databases were developed by national teams of experts from ministries of Kazakhstan and Kyrgyzstan who were trained by UNCTAD.
The databases follow the UNCTAD Multi-Agency Support Team's classification of NTMs and the organization's guidelines to collect data on such measures. And validation workshops were held in the two countries prior to the launch.
The information for the two Central Asian countries is in good company in the TRAINS database, which houses data from 109 other countries covering more than 90% of world trade.
UNCTAD works with eight international and regional organizations to build and maintain the world's largest NTMs database, which contains information on more than 50'000 measures. The TRAINS database is open to the public and can be accessed for free at trains.unctad.org.
TRAINS is a global effort to enhance transparency in trade regulations. It allows the private sector to identify regulations that they have to comply with when trading and policy makers to streamline their import and export regulations.
Due to the globally standardized data collection approach, the data can equally be used to foster regulatory cooperation at the multilateral level.
More information about UNCTAD's NTM programme can be found at unctad.org/ntm
Kyrgyz Republic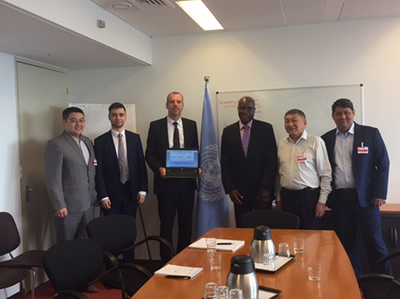 Kazakhstan