23 December 2015
On the margins of the 10th World Trade Organization Ministerial Conference, UNCTAD, in collaboration with the Kenya Investment Authority (KenInvest) launched eRegulations - Kenya's first e-platform for investment facilitation, as the country endeavors to enhance ease of doing business.
Following Kenya's upgrade on the World Bank 'Ease of Doing Business' 2015 ranking and enhanced investor sentiment, the e-portal named kenya.eregulations.org was launched in conjunction with UNCTAD to provide existing and prospective investors with a one-stop guide to Kenya's investment regulatory framework.
Dr. Mukhisa Kituyi, Secretary-General of UNCTAD, addressed delegates at the launch of the e-platform, "Kenya's eRegulations system shows that it is often possible to improve administrative procedures without changing laws. Just simplifying and clarifying what already exists - at the level of procedures and at the level of implementation - will lead to better services. Eliminating unnecessary bureaucracy supports business development and facilitates investment."
Launched in conjunction with UNCTAD, eRegulations Kenya is an online database designed to make administrative procedures transparent, swift and efficient - an essential part of KenInvest's strategy to enable the environment for private sector investments and development.
Speaking at the launch on day three of the WTO Ministerial Conference, Dr. Moses Ikiara, Managing Director of KenInvest, said, "Kenya has made great strides in the well-regarded 'Ease of Doing Business' rankings compiled by the World Bank, rising an impressive 28 places in this year's list. This, coupled with today's unprecedented launch of eRegulations - a highly valuable addition to Kenya's business landscape - places our nation on a strong reputational footing with the international investor community."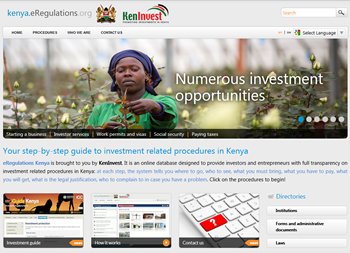 E-Regulations Kenya provides investors and entrepreneurs with total transparency on rules and procedures, through detailed, practical and up-to-date descriptions of steps to go through, as seen from the user's point of view.
While facilitating the simplification of procedures, the system also aims to promote and stimulate public-private dialogue on rules and procedures - with the ultimate aim to enhance ease of doing business in Kenya.
As a result of the portal, Kenya's rating on the Global Enterprise Registration index (GER), which rates countries' online information portals for business and investor registration, has moved to the maximum 10 points.
During the launch event, the US Ambassador, on behalf of the US State Department, a partner of GER.co together with the Global Entrepreneurship Network and UNCTAD, awarded Anne Muchoki, Chairperson of KenInvest and Dr. Moses Ikiara with a Certificate of appreciation to mark this perfect score.
High-level delegates included Dr. Mukhisa Kituyi, Secretary-General of UNCTAD; Lilianne Ploumen, Minister of Trade and Development Cooperation of the Netherlands who co-financed the project, Robert Godec, US Ambassador to Kenya , Anne Kirima- Muchoki, Chairperson KenInvest and Dr. Moses Ikiara, Managing Director of KenInvest attended the exclusive event at Nairobi's Sarova Stanley.