02 May 2016
At a briefing to member States on 29 April 2016, UNCTAD unveiled a new database of requests for technical assistance.
The database enables access to information on the status of each request in terms of funding and implementation, classifies it by country, region, thematic area or product, and highlights the funding needs.
It offers donors and beneficiary countries a comprehensive overview of demands for assistance received by the UNCTAD Secretariat since 1 January 2013. In so doing it seeks to improve the exchange of information between the UNCTAD Secretariat, donors and beneficiary countries with the aim of better responding to the needs of member States.
In presenting the new database, UNCTAD Deputy Secretary-General Joakim Reiter, underlined to member States that "it is abundantly clear that UNCTAD assistance is in high demand from beneficiary governments. This is very encouraging. The challenge, however, is that demand far exceeds supply".
Mr. Reiter said that the database is a first step in addressing this challenge: "We must improve transparency of requests for UNCTAD technical assistance, which this database ensures, as well as to effectively use it for better coordination and matching requests from beneficiary countries with the availability of funding by donors."
During the last 16 years alone, UNCTAD has assisted 130 countries through its technical cooperation programmes. From 1 January 2013 to 31 December 2015, UNCTAD received as many as 600 requests for technical assistance. Among these, to date, 236 requests - 40% of the total for the two years - remain pending due to lack of funding. The current funding gap is estimated to be at least $40.4 million, with an increase of approximately $8 million, or 25 per cent, in the past seven months alone.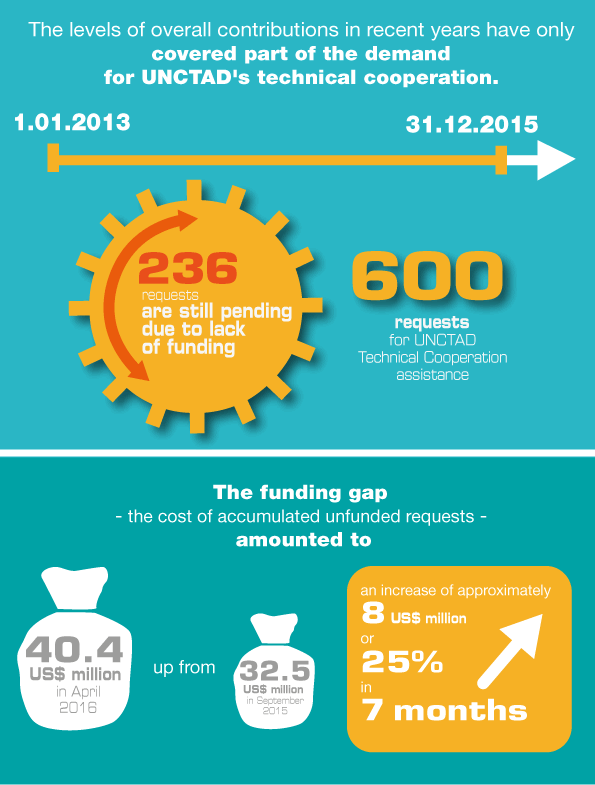 The database received wide support from member States at its launch.
Consultations will now begin with member States on the possible development of a funding mechanism to complement the database in an effort to more effectively overcome the current funding gap.
The aim is to put such a new mechanism in place by the summer 2016, coinciding with UNCTAD14 in Nairobi, Kenya, on 17-22 July.