11 December 2017
New release covers 90% of world trade and offers systematic information on tens of thousands of hard-to-find national regulations.
A new release of UNCTAD's global non-tariff measures (NTMs) database, TRAINS 2.0, will be presented during the Eleventh Ministerial Conference (MC11) of the World Trade Organization (WTO) in Buenos Aires, Argentina, on Monday 11 December.
The update means that the database now offers systematic and comprehensive information on 109 countries and covers 90% of world trade.
"The real untapped potential for further trade growth lies in regulations," UNCTAD Secretary-General, Mukhisa Kituyi said. "More transparency on non-tariff measures and regulatory standards can improve regional trade and regional integration especially for small companies in developing countries."
UNCTAD TRAINS 2.0 contains 14,561 different regulations that comprise 50,511 distinct regulatory measures. Each entry provides information on the substance of measures, and the products and trading partners subject to the measure.
NTMs are trade barriers that restrict imports or exports of goods or services through mechanisms other than the simple imposition of tariffs.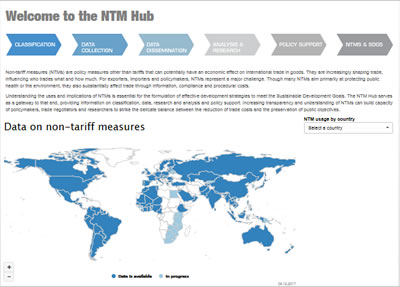 Related links:
NTMs can include such regulations as packaging requirements and limits on the use of pesticides ensure safe food in our supermarkets, restrictions on toxins in toys to protect our children, and emissions standards for cars that limit climate change.
But the lack of transparency about them are at the top of the list in private sector surveys as a challenge to trade. Empirical findings confirm that they are four times more important than tariffs.
Around 80% of world trade is affected by NTMs yet information on these measures is hidden in hundreds of thousands of difficult to read or find national legal texts.
This lack of transparency has prompted some WTO members to work together on a proposal for more stringent notification requirements during the WTO ministerial conference.
The new release of UNCTAD TRAINS features customer-friendly search queries offering cross-country comparison of NTMs by sector and measure type. Users can access it through the NTM Hub and compare statistical indexes of the countries' usage of regulatory measures for their export and import.
Moreover, researchers interested in NTMs can download for free an aggregated dataset at HS 6 digits in addition to extended dataset with additional variables.
UNCTAD has coordinated the global effort to establish a comprehensive, comparable and accessible database on regulatory measures in partnership with the:
African Development Bank

Latin American Integration Association

Economic Research Institute for ASEAN and East Asia

International Trade Centre

National Graduate Institute for Policy Studies

World Bank Group

WTO
In Buenos Aires, UNCTAD will also showcase the results of a joint analysis on NTMs with the World Bank Group.