07 November 2018
UNCTAD officials and other experts come together to pen a history of microcredit - and offer pointers to a better way of financing sustainable development.
A new book from UNCTAD authors casting a critical eye over microcredit and its usefulness in reducing poverty in developing countries was presented at a Geneva meeting of debt experts on 7 November.
Introducing the launch of The Rise and Fall of Global Microcredit: Development, Debt and Disillusion, UNCTAD expert Diana Barrowclough called it "the definitive assessment of what went wrong with microcredit".
Microcredit, the system of disbursing tiny micro-loans to poor people to help them to establish their own income-generating activities was initially praised, and many people once believed it could even end poverty.
But in recent years the microcredit model has been subject to growing scrutiny and often intense criticism for failing dramatically in its stated aim.
UNCTAD's director of globalization strategies and co-editor of the new book Richard Kozul-Wright said microcredit was essentially a Ponzi scheme that had made things significantly worse for the people it had meant to benefit.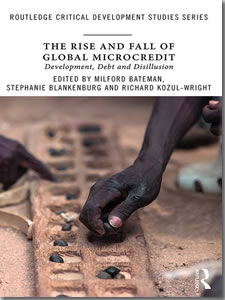 Author and co-editor Milford Bateman said that the book had evolved from a meeting in Peru several years ago where the shortcomings of the microcredit model were becoming too evident to ignore.
Mr. Bateman is a freelance consultant on local economic development, visiting professor of economics at Juraj Dobrila University of Pula, Croatia, and adjunct professor of development studies at Saint Mary's University in Halifax, Canada.
Gold rush
He said that while the model may have proved commercially successful, it contributed to unsustainable indebtedness at the micro but also the macro level, and it was part of a rapacious financialization that did nothing for sustainable development or alleviating poverty. Sadly, more progressive financing models had been sidelined by the "gold rush" prompted by the microfinance movement, he said.
"We don't just offer a critique of microfinance, but an alternative," Mr. Kozul-Wright said. "There is a better way of using finance to help achieve the Sustainable Development Goals that is different from the win-win hullaballoo that surrounded microfinance."
Published by Routledge, the new book covers the general policy implications of adverse impacts of microcredit, as well as gathering together country-specific case studies from around the world.
"This book provides a definitive, and much-needed, assessment of the microcredit movement: from the overselling of its modest initial promise, to its conversion into a new method of exploiting vulnerable people and communities, and to its misconceived embrace by global leaders and institutions," Gary Dymski, Professor of Applied Economics at Leeds University Business School, said.
"What cements this book's importance for development policy and practice is that its critique is accompanied by an affirmation of the role of productive, accessible financing in sustainable development."
Bright light
Ilene Grabel of the Josef Korbel School of International Studies of the University of Denver said: "This unfailingly courageous and carefully researched book shatters the mythology around microcredit that has captured the imagination and funding of the global development industry for far too long. It shines a bright light on the links between microcredit and rising indebtedness and financialized, rentier capitalism. Microcredit boosters take heed!"
Co-editor and chief of UNCTAD's debt branch Stephanie Blankenburg and Daniel Munevar of UNCTAD, who wrote a chapter in the new book on the history of microfinance in Colombia, were likewise present at the launch of the book.
The launch event took place during the second session of the Intergovernmental Group of Experts on Financing for Development at the Palais des Nations Geneva, Switzerland on 7–9 November. A video of the book launch and panel discussion can be viewed on UNCTAD's Facebook page.