10 July 2018
​Following the first-ever assessment of a nation's consumer protection law and policy by peer national authorities, UNCTAD has proposed a package of improvements for Morocco
A tailor-made technical assistance project to reinforce the effectiveness of consumer protection law and policy in Morocco has been designed by UNCTAD after an novel voluntary peer review carried out by the consumer protection authorities from Belgium, Lebanon and Portugal.
The peer review was received by Morocco's foreign trade minister at a meeting of experts in Geneva on 9 July, following her government's request for an in-depth assessment of its consumer protection regime - the first-ever such exercise stewarded by the United Nations.
"The review was very successful for us," said Rakiya Eddarhem, the secretary of state to Morocco's minister of industry, investment, trade and the digital economy in charge of foreign trade.
"We recommend all countries to make this peer review if they would like to improve their consumer protection behaviour."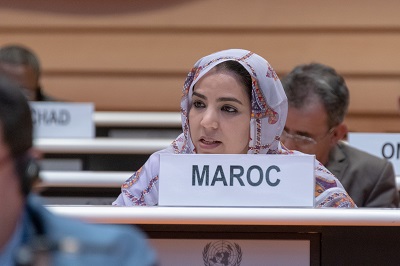 Related News:
Ms. Eddarhem said the experience of welcoming UNCTAD to Morocco had been positive and constructive, and that reforms were already underway.
Strategic vision
She said, for example, 80 investigators had been trained to strengthen the consumer protection inspectorate and had powers to sanction violators.
Ms. Eddarhem said a dedicated website that raises awareness among Moroccans of their rights as consumers, and functions as a place to make complaints, had received 41,000 visits in 2017. Nearly 800 complaints had been logged, up 64% on the year before.
The government has a strategic vision for consumer protection for 2018-2021, including educating citizens and strengthening the legal framework.
Ms. Eddarhem said her government would "rely heavily" on UNCTAD and the results of the peer review in this effort.
UNCTAD consultant Robin Simpson said that Morocco had a rich tradition of empowering buyers and sellers but now relationships were being modernized as the country was modernizing.
"Morocco is a very open country that always seeks advice from overseas partners, including the United Nations and the European Union," he said.
"It is to Morocco's credit that it seeks good ideas everywhere then selects the best."
UN Guidelines
Teresa Moreira, who leads UNCTAD's work on consumer protection, described the process by which Morocco had become the first recipient of a peer review of its consumer protection regime.
Following the adoption of revised United Nations Guidelines on Consumer Protection by the General Assembly in 2015, an Intergovernmental Group of Experts (IGE) on consumer protection law and policy was established to monitor their implementation.
The IGE, facilitated by UNCTAD, also provides a forum for consultations, produces research and studies, provides technical assistance, and organizes voluntary peer reviews.
At the second meeting of the IGE in 2017, Morocco stepped up as the first country to submit its consumer protection regime to formal scrutiny, with the results presented at this year's meeting.
Ms. Moreira said UNCTAD stands ready to assist more countries that may wish to update their consumer protection law and policy regimes in line with best practice and the revised UN Guidelines.