27 April 2015
Least developed countries such as Myanmar can add value to unique products by establishing legal and commercial frameworks indicating their geographical origin.
Linking unique products to their home regions has proved a successful way to protect producers, build brands and make money: think of a certain cheese made in Gruyere, Switzerland.
Geographical indications (GIs) - the distinctive intellectual property right linked to a specific production area or producer's know-how - represent a good opportunity for least developed countries such as Myanmar to promote their products.
A workshop on "Making Geographical Indications work for Myanmar", organized by UNCTAD and Food and Agriculture Organization (FAO) and funded by the Government if Italy, was held in in Yangon, Myanmar on 23 March 2015.
Government representatives and those from UNCTAD, FAO the Agence française du developpement, as well as GI products associations discussed the benefits, challenges and lessons learned with respect to GIs.
The workshop was a follow-up to a regional workshop that took place in Phnom Penh, Cambodia, on 11-12 December 2014 called "Making Geographical Indications work for Rural Communities in selected Asian Countries: Identify Products and Drafting of Disciplinary for Geographical Indication Registration".
| | |
| --- | --- |
| Thanaka is a yellowish-white cosmetic paste made from ground bark. It is a distinctive feature of the culture of Myanmar |   |
Given that Myanmar's economy is mainly based on agriculture and is rich with biodiversity and handicrafts, GIs represent an excellent opportunity for Myanmar. They could help promote such products as Thanakha, a unique scented cosmetic cream made from tree bark that is becoming popular in Thailand, and special lotus-fiber robes made by the people of the Inle Lake region.
Myanmar teak, types of tea and even certain stone items are also considered potential targets for GI classification.
"The objectives are to promote the development of agriculture, to increase producers' income and foster dynamic rural development," Myanmar's Deputy Minister of Ministry of Science and Technology,   Ba Shwe said. "It is important that this event, organized by UNCTAD, has focused its attention on geographical indications to raise awareness for rural agricultural products, industrial products and handicrafts in Myanmar."
Although many developing and developed countries have been successful in making use of geographical indications to promote their products, many least developed countries are struggling.
"UNCTAD has experience in assisting rural communities in LDCs with Geographical indications", Stefano Inama of UNCTAD's Division for Africa, Least Developed Countries and Special Programmes said." Even though each community has its own story, and its own products, they all have similar challenges and similar experiences."
Myanmar could learn from the experiences of rural communities of other LDCs, and from the findings of a workshop held during the Terra Madre Fair (Salone del Gusto) in Turin Italy, on 23-24 October 2014, Mr. Inama said.
Stephane Passeri for the FAO explained the challenges and benefits for rural communities in Asia. He explained the legal frameworks, supporting structures, and control systems that are needed. He also gave examples of existing and potential geographical indications to show the socio-economic benefits they had brought to Malaysia, Indonesia, Thailand, Vietnam, the Lao Peoples' Democratic Republic and Cambodia.
In order for geographical indications to promote rural development at a regional level, Mr. Passeri recommended the establishment of an operational network for dialogue, mutual exchange and regional recognition of geographical indications, the strengthening of the national institutions responsible for geographical indication development, protection and promotion, and the establishment of an effective public-private collaborations, as well as establishing a GI organization capable of setting up and managing their GI products.
Sharing France's extensive experience of GIs, citing such well-known examples as Champagne, Comté, Cognac, Foin de Crau, Noix de Grenoble, and Piment d'Espelette, was Sébastien Bouvatier, Agricultural Counselor for the Association of South-East Nations (ASEAN) at the French Embassy in Singapore.
He identified the benefits of GIs for the whole value chain as well as for consumers and said that a study on the identification of potential agricultural GIs in Myanmar will be undertaken in 2015 so that a priority list of eligible products can be established.
Myanmar's Ministry of Science and Technology made a presentation to explain the current status of GI legislation in the country and said that a law is expected to be presented to parliament shortly. Representatives of the ministry said it attaches great priority to the implementation of GIs in Myanmar are looking forward to more assistance from UNCTAD and other development partners on this matter.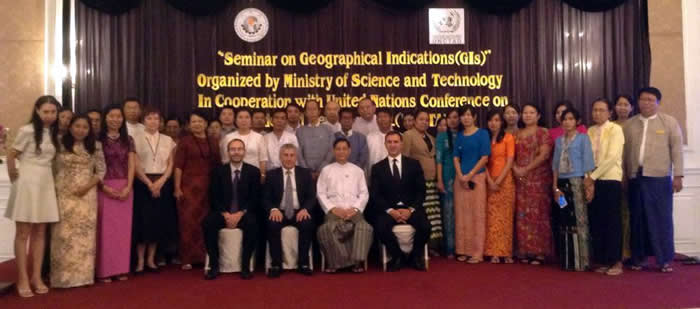 Forty-five participants attended the workshop from Myanmar's ministries of Science and Technology, of Environmental Conservation and Forestry, of Industry, of Commerce, of Education, of Culture, of Hotels and Tourism, and of Agriculture and Irrigation and representatives from the Union of Myanmar Federation of Chambers of Commerce and Industry, Intellectual Property Proprietor's Association and the ASEAN Intellectual Property Association were represented.