04 April 2019
UNCTAD has launched a new network for women leaders in e-commerce, aiming to raise their profile, including in policy processes.
Digital transformation is a gamechanger. But only if it succeeds at involving half of society, in other words, women, will it achieve its full potential, especially when it comes to development and sustainability.
This means changing people's minds first,  and letting this shift in mindset influence policy, investment, and business behaviour, attendees at the fifth UNCTAD eCommerce Week heard in Geneva, Switzerland on April 3.  
"A systematic effort to collect, nurture and enhance the experiences of women involved in e-commerce is needed," said UNCTAD Deputy Secretary-General Isabelle Durant.
Raising the profile of successful women leaders in e-commerce and the digital economy is an important first step to maximizing new opportunities for women in developing countries.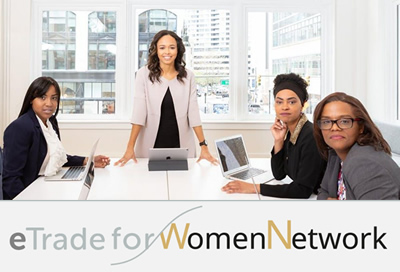 The new eTrade for Women Network, which will complement the current work of the groundbreaking eTrade for all initiative, was announced by Ms. Durant alongside a hotshot panel on changing the narrative of women in e-commerce led by top and emerging women in the sector.
Ms. Durant said UNCTAD would leverage its existing relationships with partners involved in the eTrade for all initiative to champion the network.
"I would also like to acknowledge the support we have received from our donors, and the Government of the Netherlands, in shaping, building and developing this new network," she said.
"Without the support of pioneers, we could not be at the forefront of women's empowerment, as we strive to do."
The network aims to support women involved in e-commerce in developing countries y collecting, nurturing and showcasing the experiences of successful women leaders.
It will also provide them with opportunities to make their voices heard in policy processes both domestically and internationally.
Four reasons why
Years of work with women entrepreneurs trying to take advantage of digitalization opportunities has led UNCTAD, and other partners such as the International Trade Centre and donor governments, to better assess the dynamics of the gendered digital divide.
A network to bring leading women in e-commerce together to share experiences, learn from one another and ultimately to influence policy, was a logical next step, UNCTAD said.
There are four reasons why UNCTAD established the eTrade for Women Network, Ms. Durant said:
Visibility: to increase the visibility of successful women entrepreneurs in e-commerce in developing countries.

Largesse: to provide them with a relevant network of peers.

Inspiration: to inspire the next generation of women entrepreneurs and e-business leaders in developing countries.

Learning: to highlight good practices emerging from the field that are likely to add value to existing gender initiatives.
Policy and perception change
Putting forward high-level profiles of such top women entrepreneurs will help demonstrate that women can overcome challenges and sustain e-commerce businesses successfully.
It could also lead to the policy changes required, the panelists underlined.
Describing the value of the new network, UNCTAD's eTrade for Women Network coordinator, Candace Nkoth, said: "There must be policy initiatives to give women leadership positions. Otherwise, the digital economy will never be gender inclusive."
But it's not all about being at the top, said the World Wide Web Foundation's policy director, Nnenna Nwakanma.
"It's not just about getting a seat at the table. It's about determining what's on the menu and how the menu is eaten," said Ms. Nwakanma.
She was supported by Sweden's ambassador to the World Trade Organization, Mikael Anzén, who said four things need to be considered when helping women overcome invisible barriers and access opportunities in the digital economy.
"We need rights, representation, resources and reality," he said.
Changing the narrative
Consecutive editions of the eCommerce Week have highlighted the digital economy's potential for empowering women in developing countries.
There remains a considerable gender digital divide in the use of information and communications technologies (ICTs), of women's participation as workers and entrepreneurs in the ICT sector, as well as the enrollment of women in education related to digital technologies.
"The challenges are enormous, and nobody can tackle them alone. UNCTAD builds on the work, experience and networks of eTrade for all and will continue to develop and learn from current synergies to empower women to access the digital economy and flourish in this area," Ms. Durant added.
The annual eCommerce Week gathering draws leading e-commerce figures, start-ups, policy makers and officials from around the world, and runs from 1-5 April at the UN's European headquarters in Geneva. The theme of this year's week, which comprises dozens of sessions, is "From Digitalization to Development".
Last December, UNCTAD organized its first-ever regional edition, Africa eCommerce Week, hosted by Kenya, with sessions that also threw the spotlight on the way e-commerce can empower women in developing countries.