20 July 2022
Renewed partnership will help governments in the region produce and publish reliable, comprehensive and timely debt information.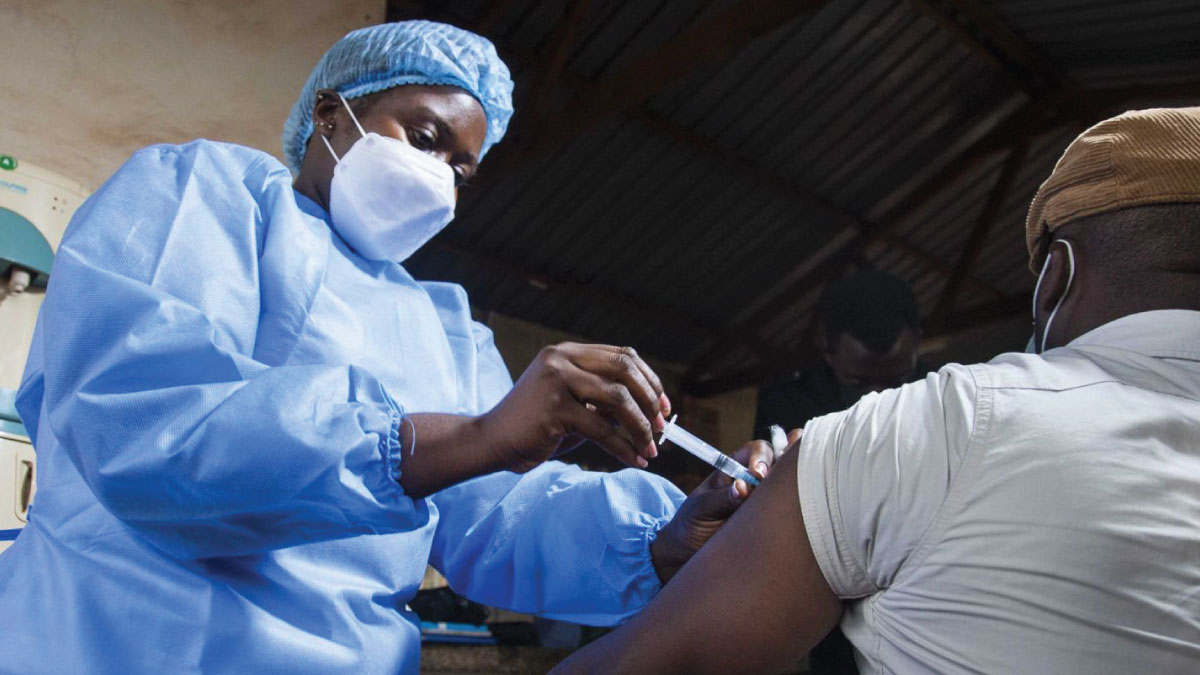 © UNICEF Uganda/2021/Kabuye | A health-care worker in Uganda administers a COVID-19 vaccine. Effective debt management is critical in the face of increased borrowing to meet demands related to COVID-19 public spending.
UNCTAD and the Macroeconomic and Financial Management Institute of Eastern and Southern Africa (MEFMI), a regional institute, signed an agreement on 15 July to strengthen their efforts in boosting countries' debt management capacity.
The memorandum of understanding signed by UNCTAD Secretary-General Rebeca Grynspan and MEFMI Executive Director Louis Kasekende reinforces the two organizations' cooperation, which started in the 1990s.
"We are pleased to bolster our partnership to enhance the capacity of countries to conduct effective public debt recording and reporting," Ms. Grynspan said.
"The financial vulnerabilities and increased risks of debt distress faced by developing countries due to economic shocks reinforce the need for effective debt management as a key component of public financial management," she added.
Over 40 years of debt management support
UNCTAD provides support for effective debt management through its Debt Management and Financial Analysis (DMFAS) programme.
DMFAS has helped governments improve their capacity to manage debt for over 40 years. It's one of the world's leading providers of technical cooperation and advisory services in this area.
The programme has supported 74 countries since its establishment in the early 1980s. Today 60 countries use the DMFAS software to manage public debt. They include six MEFMI members countries: Angola, Burundi, Rwanda, Uganda, Zambia and Zimbabwe.
The DMFAS programme delivers technical assistance in the "downstream" areas of debt management such as recording, reporting and monitoring public debt, helping developing countries cope with the increased complexity of debt management.
Its specialized products and service, including the DMFAS software, complement the work of organizations focusing on strategy and debt sustainability analysis (upstream debt management) such as the World Bank, the International Monetary Fund and regional bodies including MEFMI.
"DMFAS has enabled countries in the MEFMI region to consolidate their data in one centralized system, which is a major achievement compared to the 1990s when this information was manually recorded and scattered across many government agencies and departments that were managing public debt at the time," Mr. Kasekende said.
Complementary operations
The DMFAS programme and MEFMI operate in many similar countries and their operations in the field are complementary.
MEFMI's strong debt management expertise and well-grounded presence in Eastern and Southern African countries make it a key partner for UNCTAD in the region.
For over 30 years, DMFAS and MEFMI have delivered joint events on debt management for MEFMI member countries. These include conferences, training sessions and capacity-building activities.
In 2022, they will conduct four activities, including one regional workshop and a training session on debt management procedures in Zimbabwe.
With support from UNCTAD and MEFMI, governments can produce and publish reliable, comprehensive and timely debt information and make it accessible at international, national and local levels.
This information helps countries to develop sound debt management strategies and meet their reporting obligations.
Why debt data is critical
The effective management of public resources and liabilities and the availability of transparent debt data are critical in the face of increasing pressures on public finances and increased borrowing to meet demands related to COVID-19 public spending.
Timely and comprehensive data on the level and composition of debt are a pre-requisite not only for the effective management of public liabilities but also for identifying risks of debt crises and limiting their impact.