14 October 2016
UNCTAD is set to support Central African countries cut the costs of their cross-border trade, after signing a three-year €380,000 ($420,000) deal with the European Union in Brussels on Friday.
The grant enables UNCTAD to help countries comply with various trade regulations, including the Trade Facilitation Agreement, a World Trade Organization (WTO) agreement, that will streamline import, export and transit procedures between the WTO's 162 members.
The agreement could increase the value of global merchandise exports by up to $1 trillion a year, according to the WTO.
The Trade Facilitation Agreement is likely to come into force in 2017 when two-thirds of signatories have ratified it. Bangladesh became the 94th member of the WTO and 12th Least Developed Country (LDC) to do in September 2016.
"This European money will help developing countries to get ready for implementation of the Trade Facilitation Agreement," UNCTAD Deputy Secretary-General Joakim Reiter said.
"This is an essential part of the UNCTAD role, and we are grateful to Europe for this donation, which will be a significant boost for the individual countries concerned," he said.
Trade costs in developing countries are an estimated average 1.8 times higher than in developed countries, with the highest trade costs incurred by African countries.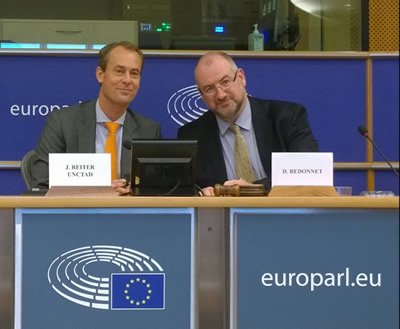 Mr. Joakim Reiter, Deputy Secretary-General of UNCTAD and Mr Denis Redonnet, European Commision Directorate on WTO, Legal Affairs and Trade in Goods
Related Link:
The European funding was announced after a session of three EU-Africa Caribbean Pacific (ACP) Joint Parliamentary Assembly committees, and signed by Mr. Reiter and Denis Redonnet, head of the strategy division in the Directorate General for Trade in the European Commission.
UNCTAD research has shown that trade facilitation must link to investments in transport infrastructure, information and communications technologies and broader trade-supporting services.
Many trade facilitation solutions are regional, and so they are best implemented at regional level too, for example, by the Economic Community of Central African States.
"Trade facilitation implementation is particularly relevant for the participation of developing countries in global value chains, trade in manufactured goods and regional integration," Mr Reiter said.
"Small and medium-sized enterprises, the consumers and producers of perishable, time-sensitive and intermediate goods, Least Developed Countries, and landlocked developing countries will all benefit from the reduction of transaction costs and times," he added.
The project will run for three years, starting in January 2017.