06 March 2015
To celebrate International Women's Day, UNCTAD presented two products on trade and gender which emphasize the importance of trade and development policies as powerful instruments to tackle gender inequalities.
UNCTAD is committed to advocate the use of trade and development policies to tackle different types of inequalities in the world, whether it is inequality between countries, within countries and between different social and demographic groups, stressed UNCTAD Secretary-General Mukhisa Kituyi.
He added that addressing gender inequality and promoting women's economic empowerment remains a critical part of UNCTAD's mandate, everyday activities and long term goals.
The event, Looking at trade policy through a gender lens, provided the opportunity to launch two new UNCTAD products.
The first is a report that summarizes the findings of a number of country case studies on the impact of trade policy on gender equality and women's wellbeing. These studies offer countries concrete and extensive policy guidance on how trade policy can promote gender equality. The countries studied are Angola, Bhutan, Cape Verde, the Gambia, Lesotho, Rwanda and Uruguay.
The country case study of Uruguay is a solid piece of research that can not only help to assess the impact of trade policy on gender equality and women's wellbeing, but also to find policy solutions to overcome the shortcomings that Uruguayan women still face as economic agents, said Ambassador Pirez Gordillo of Uruguay.
The second product presented at the meeting was a teaching package on trade and gender designed for all stakeholders (policy-makers, researchers, civil society representatives, etc.) who wish to strengthen their understanding of the links between trade and gender and their ability to formulate gender-sensitive trade policies.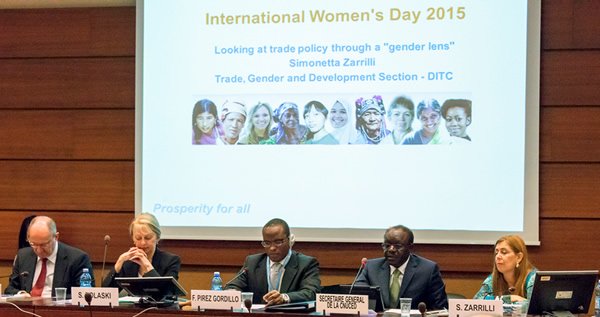 The findings from ILO studies on trade and employment converge with those of UNCTAD, observed Sandra Polaski, Deputy Director General for Policy at ILO. She went on to say that trade does not have unambiguously positive effects and the impact on women can be double edged, in that women may gain as well as lose in the process in different ways. Moreover, women in some regions may win, while at the same time women in others may lose.
This happened, for example, when textile production shifted from the OECD region to South and South- East Asia, causing significant losses of female jobs in OECD countries and significant gains in Asia. Including labour and social clauses in trade agreements and linking market access to enforcement and monitoring mechanisms has proved an effective way to improve gender equality in the workplace, as shown by the example of the bilateral textile agreement between the United States and Cambodia. Making the gender performance of firms publicly available is another tool to bridge the gap between policies and practices, she added.
UNCTAD and ILO stressed that the impacts of trade on households are large and deserve broader attention. The two organizations have thus an increasingly important role in ensuring that the differentiated impacts of trade policies are well understood and anticipated.