28 January 2022
More than 235 trade officials from over 70 countries completed the course, aimed at making trade deals better adapted to shocks such as the COVID-19 pandemic.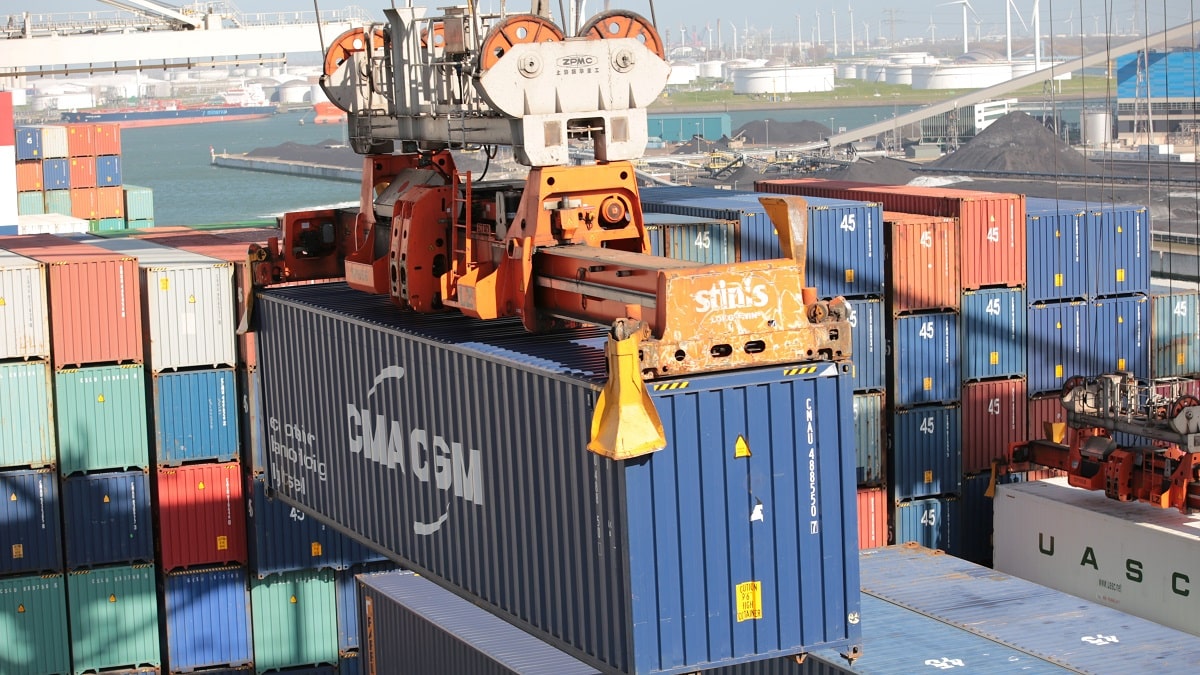 A container carrying goods in the port of Rotterdam, Netherlands. © Unsplash/Bernd Dittrich
Policy responses to the COVID-19 pandemic significantly disrupted global commerce and supply chains, revealing the shortcomings of international trade agreements to help countries respond to global shocks.
Hundreds of regional trade agreements (RTAs) between nations exist, but they appeared to provide little or no guidance on managing the movement of goods and services during the pandemic, leaving governments to opt for ad-hoc, unilateral action.
Since the coronavirus outbreak began, governments worldwide have taken 137 COVID-19 restrictive measures for trade in goods, according to data from the World Trade Organization (WTO).
To improve the trade agreements, so they better help countries cope with shocks such as COVID-19, UNCTAD and the UN's regional commission for Asia and the Pacific (ESCAP) held a three-week online course for trade officials on negotiating RTAs in times of crisis and pandemic.
More than 235 trade officials (46% of whom were women) from over 70 countries in different regions of the world completed the course, which ran from 22 November to 14 December 2021.
"RTAs, if negotiated differently, could help members react to emergency trade situations quicker than multilateral trade rules, and in a way that better meets country-specific needs," said Miho Shirotori, acting head of UNCTAD's international trade division.
A variety of complex issues
Rupa Chanda, director of ESCAP's trade, investment and innovation division, said: "The course touched upon such a variety of complex issues, which are getting incorporated into free trade agreements, and some of the difficult challenges of aligning them with how domestic policy reforms and regulations evolve."
Mr. Chanda said the course also explored "the possible difficulties countries could face in the context of the multilateral trading system and what they do in their FTAs, and the need for consonance between the two."
The possibility to craft agreements differently
The discussions during the course highlighted the importance of knowing what options exist and what possibilities there are "to craft things differently," said the primary instructor, Katrin Kuhlmann.
"As a former trade negotiator, I would say being able to put things on the table makes a huge difference," said Ms. Kulmann, who is a visiting professor of law at Georgetown University. "Every deal needed to be very balanced, but it's hard to do so without knowing what these possibilities are."
Ms. Kulmann said trade officials, especially those from developing countries, must weigh difficult questions and trade-offs when negotiating agreements.
"But I do hope that there is a possibility for a future that looks very different and where countries have an even participation and an ability to shape the [trading] system," Ms. Kuhlmann said.
Positive survey results
Results from a post-course survey showed a high level of satisfaction with the course.
S.M. Sumaiya Zabeen, a trade official from Bangladesh, said: "As I am working as a member of a team conducting RTA feasibility analysis for my country, this course has a practical implication for participants like me."
Another participant, Mpho Masupha, from Lesotho, agreed that the course was very helpful for trade officials' work.
"It has helped me to assess some of the elements that can be taken into consideration moving forward. The world has changed and that means trade agreements have to adapt," Ms. Masupha said. "The course has been of great help to indicate some of the pertinent issues of those changes."
A global initiative
The online course emerged from a global initiative on model provisions for trade in times of crisis and pandemic in regional and other trade agreements (IMP).
launched by UNCTAD and ESCAP in collaboration with other UN regional commissions, WTO and partner organizations to ensure more resilient and predictable trade during crises.
The teaching materials were based on a newly published UN handbook on provisions and options for trade in times of crisis and pandemic.
Participants benefited from additional e-learning material, including readings, videos, quizzes and an online discussion forum.
Three live sessions provided the opportunity for them to discuss in more detail with Ms. Kuhlmann and guest experts the topics covered, such as trade policy responses to COVID-19, trade facilitation, non-tariff measures, e-commerce, and digital trade and small businesses.
Moving forward, UNCTAD and ESCAP will work with other UN agencies to roll out more rounds of the global online course, including regional versions in French and Spanish.