29 June 2018
UNCTAD, in partnership with Swiss non-governmental organization Helvetas, held two back-to-back workshops in Luang Prabang, Lao People's Democratic Republic, focusing on issues on BioTrade and Access and Benefit Sharing (ABS) in the Mekong Region (Lao People's Democratic Republic, Myanmar, and Viet Nam).
The workshops were held with the support of the Swiss State Secretariat for Economic Affairs (SECO) and kicked off the first of many ABS-related activities for the new UNCTAD BioTrade programme.
The first workshop was delivered by Helvetas, titled "Regional Mekong Workshop on Access and Benefit Sharing and BioTrade" on 5–6 June.
This two-day capacity building workshop brought together BioTrade project implementers, researchers, experts and practitioners in the region to develop a deeper understanding of ABS within the BioTrade context. The workshop aimed to heighten awareness on the current challenges and issues surrounding ABS as well showcased experiences and lessons learned in each of the countries.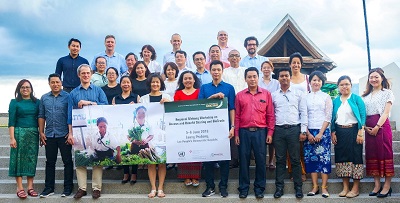 Highlights of the workshop included presentations on Lao People's Democratic Republic's approach to ABS through registration permit system, Viet Nam's experience with ABS from the private sector, and Myanmar's prospects for potential BioTrade products. The second-half of the workshop also included a visit to a botanical garden where participants were able to get a better understanding on the use of traditional knowledge within the context of ABS.
The momentum from the first workshop carried into the UNCTAD-led workshop which took place on 7–8 June.
Titled "Improving coordination on 'BioTrade and Access and Benefit Sharing (ABS) technical assistance for South-East Asia," the workshop focused more on active discussion sessions. It particularly aimed on how to better coordinate among technical assistance providers and beneficiary countries toward developing or improving BioTrade and ABS policy with respect to the Nagoya Protocol. This is especially important as even though all three countries have ratified the Protocol (which sets the minimum reference for ABS standards), the reality is that there are still very few cases of ABS laws and regulations in practice. The workshop also aimed to increase transparency and open opportunities for actors to actively engage and maximize benefits from BioTrade while complying with ABS requirements.
"We need to join hands for effective cooperation and together improve the coordination of BioTrade and ABS in the Mekong region," Jonas Grunder, Deputy Head of SECO Viet Nam, said during the opening session of the workshop.
The workshop focused on discussions amongst participants to consider potential areas of cooperation to align support to comply with ABS requirements for value chains interested in undertaking R&D. After lively negotiations, the event concluded with several joint pledges from participants which proposed joint activities over the next few years. This is a significant first step for providers of technical cooperation, ABS focal points, and business to be able to engage and work together toward further development of BioTrade and implementation of ABS in the Mekong region.
Another major outcome of the workshop was validating a joint roadmap with key joint ABS activities and cooperation initiatives with partners and participants. Moreover, more than 90 potential value chains or products were identified, of which approximately 20 of them include R&D activities that will be covered by national ABS frameworks and policies.
For the next steps, UNCTAD will update the road map which will specify the activities and roles of each actor. UNCTAD will also serve as a facilitator role to ensure that these proposals will be carried out over the next year. An update of the progress of these activities will be presented at the next workshop in 2019 in Hanoi Vietnam.
There were over 20 participants in both workshops. Attendees included: ASEAN Centre for Biodiversity (ACB), Bern University of Applied Sciences-HAFL, Biodiversity Conservation Agency of Viet Nam, Deloitte Japan, Biodiversity-based Products-BBP GIZ, BioTrade Implementation Group (BIG) Viet Nam, Center for Rural Economy Development (CRED), French Agricultural Research Centre for International Development (CIRAD), Ministry of Agriculture and Forestry Laos, Ministry of Natural Resources and Environmental Conservation (MONREC) Myanmar, Ministry of Science and Technology Lao People's Democratic Republic, SECO Viet Nam, and Union for Ethical BioTrade (UEBT).
The programme UNCTAD BioTrade Initiative - Linking trade, biodiversity and sustainable development was launched in April 2018 with the financial support of SECO.
The four-year programme will be implemented by UNCTAD aiming to provide management oversight, technical assistance, and administrative support as well as provide the overall facilitation of the programme to seize trade opportunities from linking biodiversity and sustainable development. Programme activities aim to contribute to achieving the SDGs, particularly SDGs 15 and 17, as well as the Aichi Targets.
BioTrade refers to those activities of collection, production, transformation, and commercialization of goods and services derived from native biodiversity under the criteria of environmental, social and economic sustainability.
Since its launch in 1996 by UNCTAD, the BioTrade Initiative promotes sustainable trade in support of the objectives of the Convention on Biological Diversity, Convention on International Trade in Endangered Species of Wild Fauna and Flora (CITES) as well as other multilateral environmental agreements (MEAs) and the SDGs.