28 December 2015
​Nearly two-dozen managers from 19 ports across the Philippines recently presented the recommendations from case studies conducted as part of UNCTAD's training programme. Port authorities, encouraged by the results, committed to continuing and strengthening the programme.
 
​
 
​
 
​

Video:

TrainForTrade port training programme impact stories in Philippines

 
When it comes to trade, ports matter-especially for a nation made up of over 7,000 islands.
As an island nation the Philippines depends on ports for domestic and international trade, and the more efficiently ports operate, the faster goods make it to consumers. This is also true for getting relief to communities on islands that are hit every year by typhoons.
Two port authorities from the country-the Philippine Ports Authority and Cebu Port Authority-joined UNCTAD's TrainForTrade Port Training Programme in 2014 to upgrade the knowledge and skills of their staff and improve operations.
After completing a course on port operations and management in October of this year, 23 managers of which 8 were women from 19 ports across the country were asked to apply what they had learned and conduct case studies on specific problems faced by their ports.
From 23 to 25 November, the participants presented the results of their work to panels that included UNCTAD representatives, executive directors from the Philippine Ports Authority and senior managers from Dublin Port Company-one of the European ports that support the programme.
The case studies looked at issues related to finance, human resources development, marketing, container operations, equipment use, information technology, yard design and port security.
The challenge was to present feasible recommendations their ports could put into action in the near future.
The panels commended the participants for their work, highlighting the value for department heads and senior managers who are responsible for improving operations. The case studies, they said, provided relevant analysis and practical recommendations that senior management should take into consideration.
According to the panels, the three standout case studies-all presented by women-looked at the following issues:
Improving the concession fee structure for terminal concession agreements

Assessing the implementation of the national standard for training forklift operators

Measuring the performance of sector participation initiatives of the port authority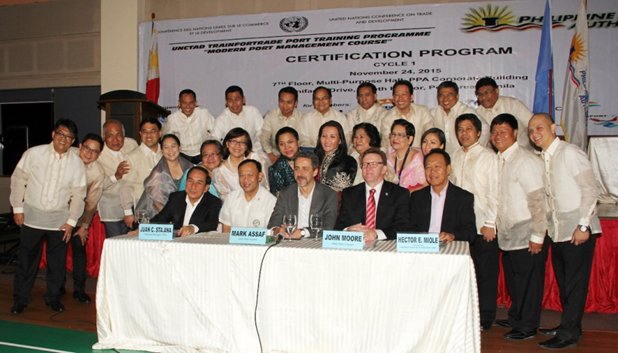 Port managers and senior managers from PPA, CPA and other stakeholders with UNCTAD and Dublin Port Company officials