31 December 2014
The workshop organized by UNCTAD on 16 December in Palais des Nations reported important lessons learned and established a dialogue with representatives of rural communities in Least Developed Countries and the Geneva community.
The objective of the one-day workshop was to establish a dialogue between representatives of rural communities in LDCs and the Geneva community to share their experiences using geographical indications (GIs) to promote the value added of their traditional products.
During the workshop the participants outlined the results achieved from other UNCTAD activities concerning (GIs), such as the event jointly organized with the Slow Food organization during the Terra Madre fair in Turin, Italy in October 2014.
Representatives of rural communities of some LDCs were invited to Geneva to inform the participants about how their countries achieved certain improvements by introducing the geographical indications concept and addressing challenges they faced in promoting and marketing traditional products. Such products include:
Pink rice from Madagascar

White prawns from Mozambique

Kampot pepper from Cambodia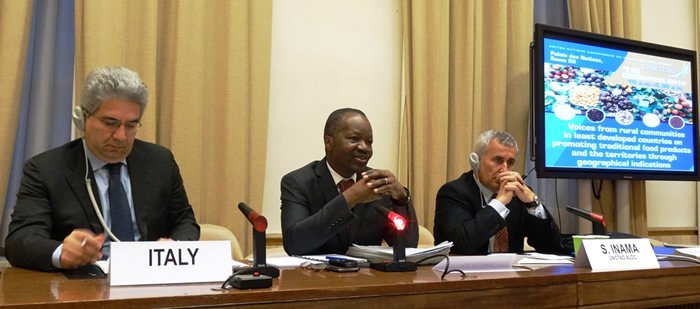 In his welcoming speech on behalf of H.E. Mr. Christopher Onyaga Aparr, Ambassador of Uganda, Mr. Michael Wamai expressed the opinion that "this kind of direct communication organized by UNCTAD, permits us to establish dialogue to participate in value chains which are a golden route to escape poverty for LDCs".
Mr. Stefano Inama of the UNCTAD Division for Africa, Least Developed Countries and Special Programmes emphasized that changes in consumer tastes and perceptions due to environmental consideration and food safety may create great opportunities for LDCs to export their unique goods. "Consumers now are more sensitive to products carrying extraordinary and unusual tastes. Branding products through geographical indications can help to generate capacity and reduce poverty", he said.
Mr. Inama also highlighted that under the Development Account project activities to diversify exports, preserve traditional products, and promote sustainable growth for isolated rural communities in LDCs, UNCTAD acts on both the policy and field levels. "In order to succeed, we need a government to stand for the producer, and we need a producer to be with the government. This has to be a Public-Private Partnership," he indicated.
In order for participants to better understand key features of geographical indications, industry experts were invited to participate in the workshop. Mr. Massimo Vittori, Managing Director of oriGIn, introduced the legal framework for geographical indications and emphasized the importance for producers of branded products to maintain a high level of quality and to comply with sanitary and phytosanitary requirements and other trade laws. "It is a great instrument that can facilitate trade provided that you have quality", he stated.
The workshop witnessed the active participation of LDCs representatives who could express their interests and concerns regarding GIs. The representative of Cambodia shared the positive experience that Starling Farm had with the implementation of GI on their Kampot pepper. He thanked UNCTAD and the development partner for their collaboration, but emphasized that their support needs to continue.
Representatives from Madagascar, Mr. Jules Randrianarivelo, Head of the rice community, and Mr. Xavier Rakotonjanahary, UNCTAD consultant, highlighted their collaboration with the FAO on criteria finding, legal articulation and in providing certification for GIs. On the other hand, they also pointed out that LDCs have to understand that the success coming from GIs is a long-term process highly dependent on the product quality.
Mr. Erminio Jocitala, UNCTAD's national consultant in Mozambique, emphasized that GIs are theoretically well understandable, but that comprehensive "guidelines" describing the minimum requirements for the developing world to succeed with GIs still need to be developed. The workshop constituted therefore an opportunity to provide answers to specific questions on the development potential and practical use of GIs.
Interventions were also made by the representatives of Benin, the Central African Republic, Haïti, Mali, Senegal and the United Republic of Tanzania.
To better understand the constraints and difficulties that rural communities in LDCs are facing in promoting their products, representatives of donor countries and other developed countries highly involved in GIs, such as Italy, Switzerland and France, attended the workshop and participated in interactive discussions.
"We see the potential that LDCs have in this sector, so we will continue to support geographical indications initiatives", said Mr. Amedeo Trambajolo on behalf of HE. Mr. Maurizio Enrico Serra, Ambassador of the Permanent Mission of Italy.
Mr. Daniel Lauchenauer from the Swiss Federal Institute of Intellectual Property expressed his support for GIs and highlighted the successful experiences of Switzerland. He pointed out that "GIs are an important tool for intellectual property and for promoting development", however, he also raised the need for accompanying measures as the GI registration should not be an end in itself.
The participants agreed on the importance of the discussed issue and further cooperation in 2015.