12 September 2014
The Federal Antimonopoly Service (FAS) of the Russian Federation praised UNCTAD for its work carried out in the field of competition law and policy at the plenary session of an event held on Russian Competition Day in St. Petersburg, Russia, on 8 September.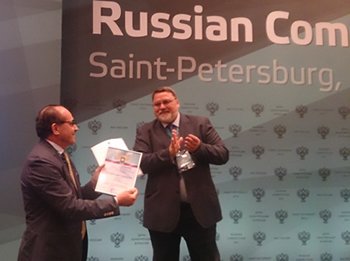 Mr Igor Artemiev, Head of FAS giving the appreciation certificate to Mr Hassan Qaqaya of UNCTAD
Negotiations are underway between the FAS and UNCTAD on the signing of a Memorandum of Understanding (MoU) in the sphere of competition policy.
The MoU will formalize Russia's access to UNCTAD's COMPAL GLOBAL competition law and policy programme, as well as set up a Russian version of UNCTAD's database for the Commonwealth of Independent States (CIS). This database will also provide the virtual platform for the working groups established for the oil and energy, and pharmaceutical sectors.
The FAS and UNCTAD held a bilateral consultation during the event to agree a workplan for the setting up of a Russian language version of a database of cases and sectoral studies, not only for Russia but for other CIS countries.
The FAS also invited Theodor Tanner, Director General of the Austrian Competition Authority, and Ali Demiroz, Senior Coordinator of the Turkish Competition Authority, to the event.
At the meeting, UNCTAD's Pierre Horna presented the COMPAL GLOBAL programme as a new umbrella structure for UNCTAD's worldwide technical assistance programmes in the area of competition and consumer protection policies, as well as a detailed presentation of the UNCTAD Database on Competition Cases (with a demo version in Russian).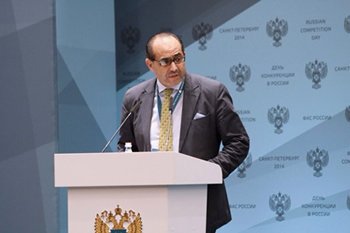 Hassan Qaqaya delivering a presentation during the
Plenary Session
Later in the plenary session, UNCTAD's Hassan Qaqaya delivered a presentation on the independence and accountability of competition agencies as a key feature of modern competition regimes, drawing on the experience of different CIS countries, including the outstanding work of the FAS since its creation in 1992.
Mr. Qaqaya highlighted the different agency models that exist worldwide and pointed out that no model is better than the other, but the way the model is implemented in accordance to the institutional settings and socio-economic circumstances of the country is most important.