17 May 2019
When shocks strike, science and technology can help communities to bounce back and continue to thrive.
Science, technology and innovation (STI) can help stem losses when shocks strike, experts said at the twenty-second session of the United Nations Commission on Science and Technology for Development (CSTD) on 15 May.
STI can also quicken recovery from shocks, which are occurring at an unprecedented frequency and leaving huge losses in their wake, attendees heard.
"People around the world are affected by shocks all the time," said Shamika Sirimanne, director of UNCTAD's division on technology and logistics.
"STI is critical to building the resilience of communities for sustainable development," Ms. Sirimanne said while presenting a report on the issue prepared by UNCTAD for the commission.
The report notes that in 2017 natural disasters affected more than 95 million people, causing damage and losses worth over US$337 billion.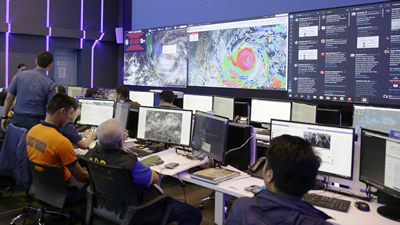 Related link:
It adds that the 2014–2016 global commodity price realignments triggered an economic slowdown that affected the capacity of many governments to provide public services.
Empowering people
When crises strike communities, digital technologies empower even the most vulnerable among them by giving them a voice, Ms. Sirimanne said.
These technologies connect people and enable them to develop early warning systems, allowing them to adapt to shocks and to thrive, she said.
However, for the technologies to have the greatest impact, citizens must be actively involved in tasks such as data collection in what is broadly known as citizen science.
"We cannot build resilience without community-level engagement," Ms. Sirimanne said.
Before, during and after shocks
Building resilience involves being with communities before, during and after the shocks, said Elhadj As Sy, head of the International Federation of Red Cross and Red Crescent Societies.
"We have to learn from the people we serve and acknowledge their knowledge," he said. "Technology should serve people, not the other way round."
According to him, science should recognize indigenous knowledge, validate it and use it for the benefit of communities.
He said his organization learned a lot from working with communities ravaged by the Ebola epidemic in West Africa, mainly in Guinea, Liberia and Sierra Leone, between 2014 and 2016.
"Communities play a vital role in preventing and responding to epidemics," Mr. Sy said.
He related how volunteers helped to build trust during his organization's Ebola response by collecting rumours and concerns and logging them into a tracking system for action.
"By listening to communities' fears and perceptions, we can better address them and prevent shocks, as responding to disasters is costlier than preventing them," Mr. Sy said.
Data: handle with care
Data was key in building community resilience, various experts said.
"Some people say data is the new gold, the new currency," said Bernardo Mariano Junior, chief information officer at the World Health Organization.
A lot of data was locked in the cultures and traditions of communities and not fully tapped, said Josephine Khaoma Ngaira, deputy vice chancellor at Masinde Muliro University of Science and Technology in Kenya.
"Communities have data linked to the 17 Sustainable Development Goals, as the goals touch on issues affecting our daily lives," Ms. Ngaira said.
Thanks to citizen science, some of the data from communities was seeing the light of day and informing policies, she said.
"However, data acquired from communities had to be handled with caution and ethically," said Mr. Junior.
Data generated by communities had to be handled with care and the benefits accruing from the data shared equitably, he argued.
"When you take data out of many multibillion digital companies, they will be worth zero," he said.
Resilient solutions
The experts also underlined the importance of making infrastructure and technological solutions resilient.
"Shocks impact infrastructure the same way they affect human lives," Mr. Sy said.
Technological solutions designed for emergency response should be able to withstand damage during disasters such as floods, various experts said.
They said the resilience of infrastructure such as hospitals, transport, electricity and information and communications technology systems was crucial, as disruptions would severely affect communities.
The role of science, technology and innovation in building resilient communities, including through the contribution of citizen science was one of the two priority themes of the commission.
The commission is a subsidiary body of the United Nations Economic and Social Council and provides the UN General Assembly with advice on how science and technology impact sustainable development.
UNCTAD is responsible for the substantive servicing of the commission.