19 September 2022
At the General Assembly, UNCTAD chief Rebeca Grynspan joined UN leaders, heads of state and global activists in a call to tackle multiple crises and get back on track to building a better future.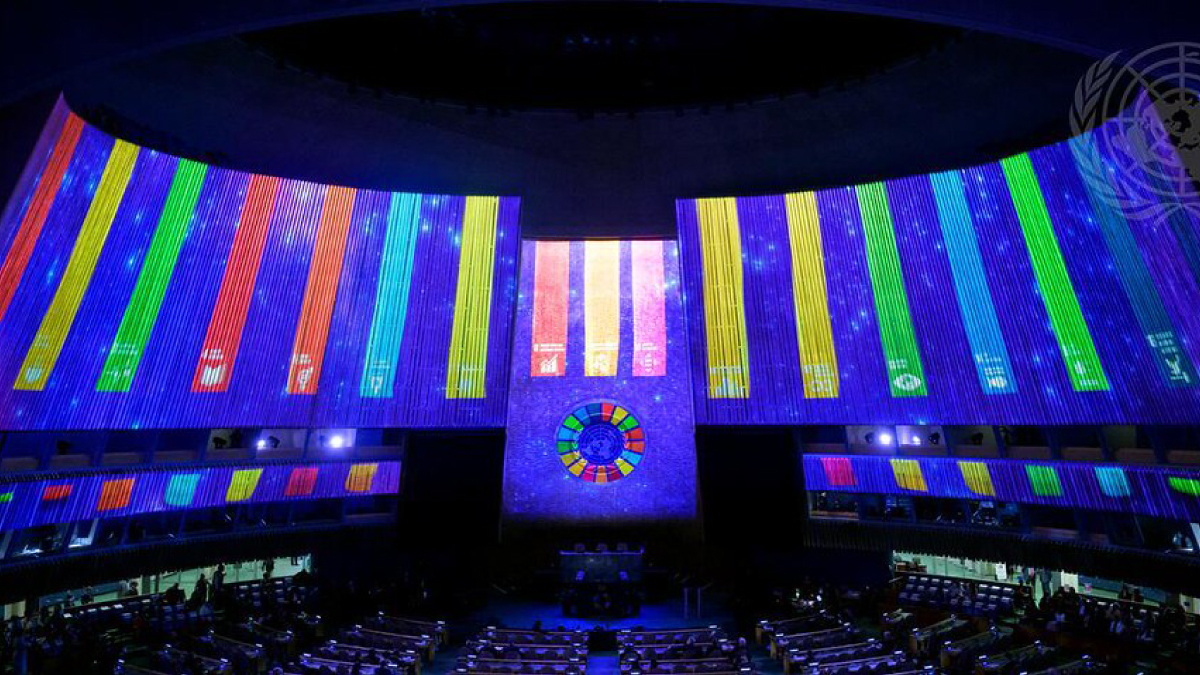 The world has a long "to do list" to build a safer, healthier and more inclusive world by 2030, and on 19 September global leaders at the United Nations General Assembly (UNGA) called for urgent action to get back on track.
Time is running out to achieve the 17 Sustainable Development Goals (SDGs) – the midpoint for implementation is 2023 – and the combined crises of the war in Ukraine, the COVID-19 pandemic and the climate emergency are pushing the goals further out of reach.
To turn the tide, UN Secretary-General António Guterres convened a 90-minute "SDG Moment" to kick off the UNGA's high-level week and spur stronger commitments to ensure the successful implementation of the goals. Watch the event on UNTV.
UNCTAD chief Rebeca Grynspan joined Mr. Guterres, other UN leaders, heads of state, Goodwill Ambassadors and global activists to highlight transformative solutions to rescue the SDGS.
These included a call to reform the global financial system and boost investment in SDG-related sectors, such as health, education and renewable energy. When the goals were adopted in 2015, UNCTAD estimated at $2.5 trillion the SDG investment gap for developing countries. The gap has swelled to an $4.3 trillion abyss in the wake of the pandemic, and the war in Ukraine is expected to further widen it.
Fighting cascading inequalities
Speaking during the SDG Moment's dialogue on solutions to inequalities, Ms. Grynspan called for support for the policy recommendations of the UN Global Crisis Response Group (GCRG), established by Mr. Guterres to address the interconnected and complex food, energy and finance crises.
UNCTAD co-leads the GCRC's workstream on finance and coordinates the work of all three workstreams.
Ms. Grynspan said these "cascading inequalities" are fueling a global cost-of-living crisis and "cascading inequalities" that will leave the whole world weaker – and slower – in their attempts to recover.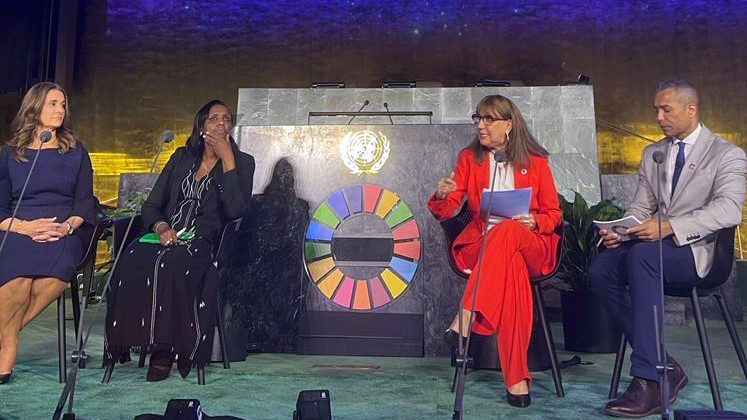 Caption: UNCTAD Secretary-General Rebeca Grynspan (third from left) at the UN General Assembly's SDG Moment.

Addressing today's crisis of affordability
"Today, we have a cost-of-living crisis that is a crisis of affordability," Ms. Grynspan said, highlighting that food, energy and fertilizer prices have skyrocketed since the war in Ukraine began.
She called for support for the UN Secretary-General's efforts to stabilize prices. These include the UN-brokered Black Sea Grain Initiative, which has reintegrated in global markets much-needed grains and food from Ukraine.
Ms. Grynspan also reiterated the GCRC's call for global financial institutions to use their "deep pockets" to increase liquidity and provide debt relief so governments can cushion the blow.
During the pandemic, many developing countries took on additional debt. About 30% of middle-income countries and 60% of low-income countries are currently in debt distress. This undermines their ability to provide basic services, such as health care and education.
"So, we need to bring prices down," Ms. Grynspan said, "but we also need the liquidity of countries to go up, for their fiscal space to widen, so countries can provide social protection for their poor and vulnerable."
Preventing tomorrow's crisis of availability
The UN continues to work with all parties of the Black Sea Grain Initiative to reintegrate Ukraine's agricultural supplies as well as the food and fertilizer produced by Russia into world markets.
Ms. Grynspan said these efforts are key to preventing "today's crisis of affordability" from turning into "tomorrow's crisis of availability".  
"Without enough fertilizers, next year's harvest will not be able to feed the world. We need to make fertilizers available for the world, especially for the small farmers."
The UNGA opened on 13 September in New York and will run until 23 September. A General Assembly resolution (74/4) calls on the UN Secretary-General to organize an annual moment in the context of the General Debate of the General Assembly to highlight inspiring SDG action. The annual SDG Moment, convened for the first time in 2020, serves as a check-in on the status of the SDGs.