14 November 2012
UNCTAD Secretary-General Supachai Panitchpakdi has today completed a three-day visit to Jamaica, during which he met with the country's Governor-General and Prime Minister, and addressed a symposium on foreign trade.​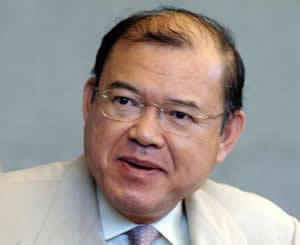 UNCTAD Secretary-General, Dr. Supachai Panitchpakdi
Dr. Supachai delivered the keynote address on Wednesday at the opening ceremony of the Symposium on Jamaica's Involvement in Foreign Trade, 1962-2012 - Forging the Link Between Trade and Development.
Organized by the Jamaican Ministry of Foreign Affairs and Foreign Trade, the Symposium marked the fiftieth anniversary of the Ministry, and also formed part of the celebrations for the fiftieth anniversary of Jamaica's independence.
In a wide-ranging presentation, Dr. Supachai reviewed such topics as the evolving trade and development policy agenda, after Bretton Woods and the Washington Consensus, finance-driven globalization, and the case for new trade policy frameworks for inclusive and sustainable development.
Of the country's current situation, he said that "Jamaica has important economic capital upon which to build its development strategies in a manner ensuring greater inclusiveness, resilience and sustainability. Among these are a competitive labour force, strong export potential in tourism and other services, including the creative industries, and the existence of a large Jamaican diaspora community and its geographical proximity to the world's largest market - the United States. Increasing linkages between export-oriented sectors and locally oriented production and business are particularly important in harnessing gains, such as by promoting industrial clusters in support of small and medium-sized enterprises."
The Secretary-General added that "formulating a coherent and integrated services strategy also appears to be promising. The sector accounts for 73 per cent of GDP, absorbing 64 per cent of the labour force, and has been a driving force of overall economic growth over the last 20 years."
During the visit, Dr. Supachai met with Jamaican Governor-General Sir Patrick Allen, Prime Minister Portia Simpson-Miller, and the Leader of the Opposition, Andrew Holness. He also met with business leaders at the Jamaica Exporters' Association, held discussions with government ministers, and addressed students and faculty at the University of the West Indies.
Dr. Supachai visited Jamaica at the invitation of the Minister of Foreign Affairs and Foreign Trade, Senator Arnold J. Nicholson, who said that he hoped the Secretary-General could share his experiences in developing foreign trade policy, as well as his views on how small developing countries could expand their trade in services.