09 June 2015
Ambassadors, trade negotiators, policymakers, and national and international services regulators and experts concluded the third session of the Multi-year Expert Meeting on Trade, Services and Development, on May 13, 2015.
National economies and international trade are increasingly relying on services - a phenomenon dubbed "servicification" - and debates at the third session of the Multi-year Expert Meeting on Trade, Services and Development, hosted by UNCTAD in May, recognized the importance of this phenomenon.
Ambassadors, trade negotiators, policymakers, and national and international services regulators and experts discussed experiences and lessons learned from services sectors, particularly infrastructure services such as energy, telecommunication, transport and financial services. The objective was to help UNCTAD's member States to design and implement regulatory and institutional frameworks to strengthen their services economy and trade flows.
The key role of the services sector in the post-2015 development agenda has also been acknowledged in the proposed sustainable development goals (SDGs) to be adopted in New York in September: many of the goals and targets refer to the crucial role of infrastructure, universal access to basic services, access to financial services, energy, health, education, telecommunications, and transport. Moreover, several cross-cutting goals are predicated on the efficient, environmentally friendly and equitable functioning of services. The services sector development will therefore have a crucial role as means of implementation of SDGs.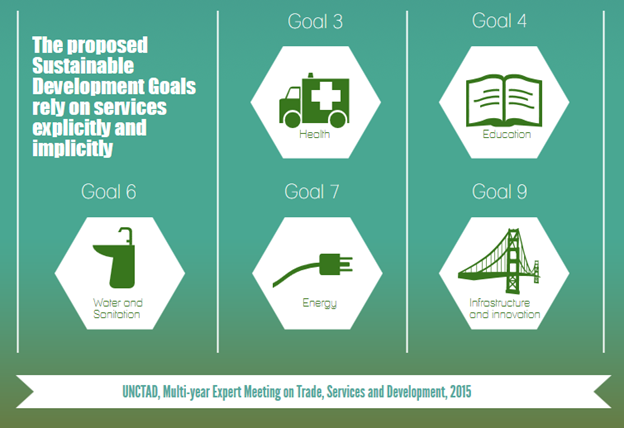 Several components of UNCTAD's "services toolkit" were highlighted in the discussion, most notably, UNCTAD's Services Policy Reviews (SPRs). These are conducted under an innovative, participative and multi-stakeholder methodology and provide a systematic review of the policy and the regulatory and institutional framework of a country's services sector in order to make recommendations that can help promote coherent and comprehensive national and sectoral development plans and strategies.
Improving the services sector contributes to a fundamental sustainable development aim - namely alleviating poverty. This is because services can have wide-spread positive spill-over effects on other sectors. But this interconnectedness also makes it more difficult, and at times sensitive, to reform than other parts of the economy.
"Getting policies, regulations and institutions right sounds good, but it is easier said than done," UNCTAD Deputy Secretary-General Joakim Reiter said. "The challenge is even bigger in developing countries, where, in some cases, the services sector is still nascent and underdeveloped, and so are the national regulatory frameworks. The challenge is big, but the task is not impossible; UNCTAD can help. And one of the ways in which we can do it is through our SPRs. The reviews have served as a tool for assessing the robustness of services policies, regulations and institutions and the potential of services and trade for development."
The meeting brought together senior representatives from those countries that have benefited from UNCTAD's SPRs and similar support, including Bangladesh, Colombia, Ecuador, Indonesia, Jamaica, Lesotho, Nepal, Paraguay, Peru, Rwanda and Uganda, as well as Southern African Development Community and Andean Community countries. They shared their experiences and lessons learned in identifying policies and regulations that fit their specific national contexts best. They expressed their appreciation to UNCTAD for the support provided through SPRs and other exercises.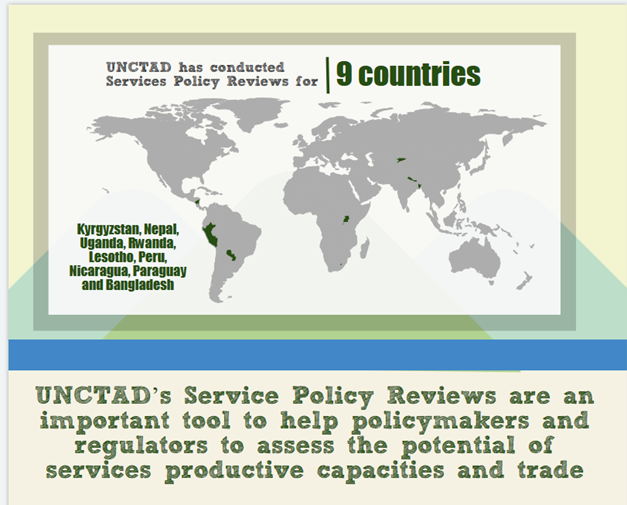 His Excellency Ambassador Shameem Ahsan, Permanent Representative of Bangladesh, expressed his government's appreciation to UNCTAD for having conducted the first ever SPR of Bangladesh. "The observations and recommendations made in the SPR would not only help Bangladesh formulating pragmatic policies in our emerging services sectors, but also enable us to effectively participate, as an LDC, in the negotiations in the World Trade Organization on Services Waiver," he said. "It will also help in the ongoing process of formulating an integrated national policy on Trade in Services in order to fine-tune our objectives at the national level and also in regional and international trade negotiation regimes." He concluded by saying "UNCTAD's initiative is a commendable beginning" and "this SPR hopefully would remain an essential tool for us to further build upon in future".
Several country representatives, including a representative of the Pacific Islands Forum, expressed their interest in receiving UNCTAD's support in conducting SPRs. States recognize that it is crucial to ensure that trade gains are fairly shared among countries and within the countries. In the past decades, rising inequalities have been observed in many part of the world. Research from the International Labour Organization indicates that trade in general and trade in services do not automatically lead to better jobs and rising incomes without a public policy of economic and inclusive development.
Trade liberalization and national regulatory efforts should go hand in hand. The more countries liberalize the more they need sound regulations and stronger institutions. Although liberalization could be a component of services policy reforms, coherence of such reform with other complementary policies are needed to harness the services potential. These include policies aimed at labour skill enhancement, innovation and technologies upgrading. Policies are also needed to facilitate transition from informality to formality as many services are found in the informal sector. While much policy attention has been given to market access issues, addressing regulatory divergence and regulatory barriers could be more amenable to facilitating trade in services. International standards on services, and international regulatory cooperation (for example labour mobility, infrastructure development), can play a major role in this regard.
On the financial services side, speakers pointed to the need of a combined approach to regulation with micro and macro regulatory tools. The paradigm shift pertaining to the increased convergence of information and communication technology and financial services is increasing the need for greater regulatory competences and coordination between different regulatory bodies in order not to hamper the development of new technologies and services. As countries seek to strengthen their services sectors, UNCTAD stands ready to support them through its comprehensive work on services and the several components of its toolkit, in harnessing the potential of services economy and trade for post-2015 sustainable development goals.