13 September 2019
Database will enable ASEAN countries to identify the extent of application of non-tariff measures and make them business friendly.
Economic ministers from countries in the Association of Southeast Asian Nations (ASEAN) commended UNCTAD for its work on a database of non-tariff measures (NTMs) in the region during their latest ministerial meeting held on 6 September in Bangkok, Thailand.
UNCTAD developed the database in cooperation with the Economic Research Institute for ASEAN and East Asia (ERIA) as a resource to assist ASEAN countries in populating and developing the NTMs section of their national trade repositories (NTRs).
NTMs are policy measures, other than ordinary customs tariffs, that can potentially have an economic effect on international trade in goods, changing quantities traded, or prices, or both.
Examples of NTMs include sanitary and phytosanitary regulations (measures that are applied to protect human or animal life) and technical barriers such as labeling requirements.
"Increasing transparency and understanding of NTMs can build capacity of policymakers, trade negotiators and researchers to strike the delicate balance between the reduction of trade costs and the preservation of public objectives," Ralf Peters, chief of UNCTAD's trade information section, said.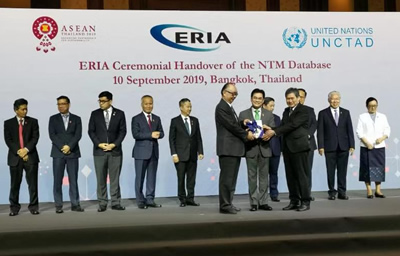 51st Meeting of ASEAN Economic Ministers
Bangkok, Thailand on 6 September 2019
Download:
Related link:
UNCTAD and ERIA collected and classified NTMs in the 10 ASEAN countries – Brunei Darussalam, Cambodia, Indonesia, Lao PDR, Malaysia, Myanmar, the Philippines, Singapore, Thailand and Viet Nam.
The two organizations worked on all regulations and official documents including international conventions adopted by countries that were in effect as of March 2018. The data was shared with the ASEAN countries to assist them in developing their respective NTRs.
Collecting, validating and disseminating data
The work is part of a global effort coordinated by UNCTAD to collect, validate and disseminate NTM data from official sources, to improve the general understanding of these measures and their impact on world trade and to provide insights on NTMs in the ASEAN region and elsewhere in the world.
It will enable countries in the region to identify the extent of NTMs application and to develop appropriate approaches to manage them and make them business friendly.
"As room to liberalize tariffs further is limited, addressing NTMs is fundamental to fully realize the ASEAN economic community," Hidetoshi Nishimura, ERIA president, said while handing over the joint UNCTAD-ERIA database to ASEAN Secretary-General, Dato Lim Jock Hoi, in Bangkok on 10 September on the sidelines of the 51st ASEAN Economic Ministers' Meeting.
Over the past 15 years, tariffs have declined worldwide, however the number of NTMs has increased dramatically – 15% in ASEAN countries over the past three years. 
Since NTMs have the potential to restrict trade, they could hamper ASEAN's integration efforts. Because NTMs constitute a grey area where trade policy objectives meet other public policy goals, effective NTM management must consider not only their trade-distorting effects but also their potential benefits.
The ASEAN ministers also lauded the in-country capacity-building training sessions on NTMs collection, classification and analysis that UNCTAD and ERIA conducted for government officials.
UNCTAD and ERIA continue to enhance the capacity of governments to sustain and update the database as well as to manage NTMs to contribute to ASEAN's efforts to enhance national competitiveness and advance the integration agenda, which, ultimately, could foster economic growth.