15 May 2019
Business solutions to protect our environment and promote inclusive prosperity exist. They simply need to be embraced and supported.
Protecting the environment is profitable and doesn't require massive investments, attendees at an event held on 14 May during the UN Commission on Science and Technology for Development (CSTD) heard.
The event, Get Up, Stand Up, Start Up for Green Goals, showcased five dynamic start-ups that have devised innovative and profitable solutions to sustainable development challenges in developing nations and across the globe.
Solar Impulse Foundation pioneer Bertrand Piccard, UNCTAD Deputy Secretary-General Isabelle Durant, Botswanan minister for tertiary education, science and technology Thapelo Olopeng and Rwandese entrepreneur Akaliza Keza Ntwari discussed how start-ups could help solve pressing development challenges.
"Sustainable Development Goals will only be achieved if all actors roll up their sleeves and work together to seek solutions," Ms. Durant said while moderating the event held at the Palais des Nations in Geneva, Switzerland.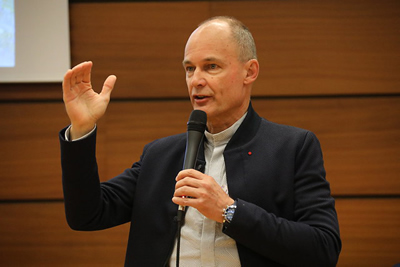 Quality over quantity
"Quantitative growth was possible in the 1950s when we had 2 to 3 billion people on the planet. Today, with 8 billion people, we need qualitative growth," Mr. Piccard said.
The solar pioneer and visionary said the world had to replace inefficient energy systems that had been in use for more than 100 years with efficient technologies, which exist across the world and are profitable.
He said developing countries had a huge advantage because they could implement novel and innovative solutions without having to overcome old thinking focused on unsustainable production and consumption.
"Protection of the environment is a market. It creates jobs. It's good for the economy," he said, urging for a higher level of ambition among all actors in addressing development issues, including climate change.
According to him, development solutions don't have to be huge or expensive.
"We don't always need technology transfer. Sometimes all we need is a transfer of compassion, to understand the lives of other people and use our knowledge to support it."
Enabling environment
Providing a developing country perspective, Mr. Olopeng said governments needed to provide incentives and policies to encourage small and medium-sized enterprises to boost their businesses. He highlighted examples of incentives provided by Botswana.
"Startups can assist in creating employment and contributing to the GDP of the country," the minister said. "There needs to be a strong link between them and decision-makers."
Ms. Ntwari, a multimedia entrepreneur and member of the UN Secretary-General's High-Level Panel on Digital Cooperation, related her entrepreneurial journey and her work in mentoring young start-ups in Rwanda.
"The government cannot provide jobs to all young people. So I encourage them to start businesses because when they do so, they inspire others to do the same," Ms. Ntwari said, highlighting the need for entrepreneurs to share their experiences and mentor others.
Start-ups showcase
The start-ups that presented their innovative and profitable solutions and are supported by the World Alliance for Efficient Solutions, a Swiss non-governmental organization established by the Solar Impulse Foundation, were:
The event, which was broadcast live on Facebook, was described as "refreshing" by various participants, including government officials, businesses leaders and civil society representatives.
The event was organized as part of the collaboration between UNCTAD and the World Alliance for Efficient Solutions to bring renewable energy to Africa.