21 December 2018
UNCTAD's BioTrade Initiative champions companies whose business model benefits of both the planet's plants and animals and people.
You've seen them on TV, but did you ever imagine you could own a brightly coloured jungle frog from Ecuador? If you did, you probably dismissed the idea – surely it can't be legal to buy such precious animals? But you'd be wrong.
Contrary to popular belief, 97% of the 36,000 species listed by the secretariat of CITES, the Convention on International Trade in Endangered Species of Wild Fauna and Flora, can be traded legally.
And such trade in biodiversity – known as BioTrade – can generate a variety of socio-economic benefits for communities that collect, hunt or farm unique plants and animals in sustainable ways.
Representatives of UNCTAD's BioTrade Initiative, attending a CITES and Livelihoods Programme workshop in Guangzhou, China (6–8 November), highlighted the benefits and incentives legal trade in wildlife can provide, including by reducing poaching, promoting more positive attitudes toward conservation, and conserving the habitats of CITES-listed species and others.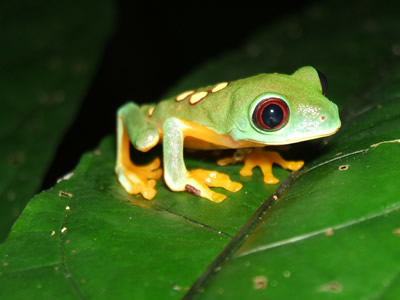 "BioTrade practitioners have already shown how legal, sustainable and traceable trade can generate positive incentives for suppliers and their communities for conserving and recovering endangered species while generating economically viable activity," Lorena Jaramillo, an economist with UNCTAD's BioTrade Initiative, said.
The Guangzhou workshop aimed to identify 30 new successful cases which can communicate the positive linkages between generating sustainable livelihoods and conserving endangered species.
"We want to find ways to enhance livelihoods through these events to show that endangered-species conservation is possible and can be successful with the participation of local communities," CITES official Yuan Liu said at the workshop.
Gliding to success
Among the BioTrade success stories presented by UNCTAD was Wikiri, an amphibian farm in Ecuador. Dealers can legally purchase a variety of vulnerable captive-bred frogs and toads from Wikiri, such as the bright green gliding tree frog (Agalychnis spurrelli) listed by CITES in its Appendix II. The appendix includes species that are not necessarily threatened with extinction, but trade in which must be controlled.
Wikiri, which sources tadpoles as well as grown frogs, also offers sapo-watching ("toad-spotting") tours. Importantly, much of its work is devoted to conservation, research and education, as well as frog and toad farming.
In addition, UNCTAD presented to the workshop BioTrade case studies of health and hygiene products company Weleda, which started in a small shed in Switzerland and is now a global company in 50 countries that uses plant extracts, and a Colombian Ministry of Environment-Sociedad Colombiana de Cycadas-Fondo Accion project that has commercialized ornamental plants.
"In BioTrade we work in an integrated and holistic manner to develop biodiversity-based value chains and businesses, create an enabling policy environment and support entrepreneurs to access international markets," said Lika Sasaki of UNCTAD's BioTrade Initiative.
"We help to enhance the capacity of the companies to develop their businesses with social and environmental practices in mind."
The workshop concluded with a vision to compile and disseminate new success stories, continue the exchange of experiences between countries and regions, and develop models for the conservation and sustainable use of CITES-listed species.
The CITES Secretariat and the CITES Management Authority of China hosted the workshop, which gathered more than 80 representatives from five continents as well as experts from conservation organizations, United Nations agencies, and academic institutions.
UNCTAD carried out this work under the Global BioTrade Programme: Linking Trade, Biodiversity and Sustainable Development, which is supported by Switzerland's State Secretariat for Economic Affairs-SECO.
Key findings and conclusions of the workshop will be presented at the 18th meeting of the Conference of the Parties to CITES in Colombo, Sri Lanka on 23 May–3 June 2019.