24 January 2022
Voluntary sustainability standards can play a bigger role in conserving our planet's resources and help strengthen the new post-2020 global biodiversity framework, experts say.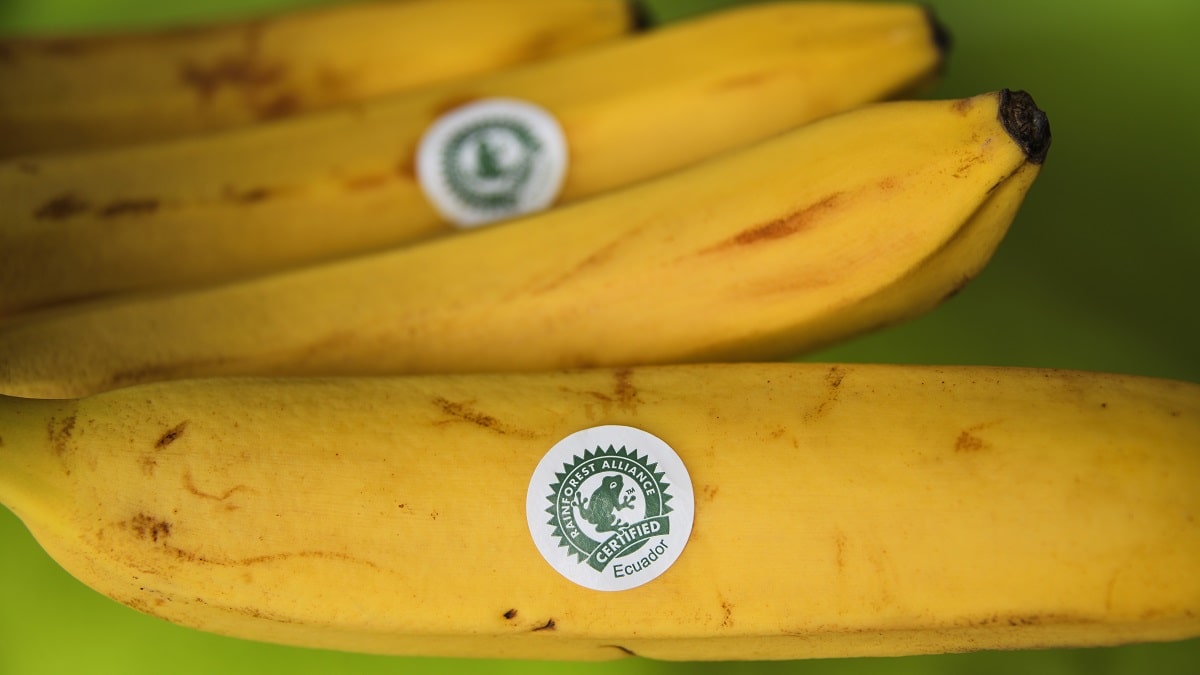 The Rainforest Alliance is a voluntary sustainability standard for agriculture and forestry products and tourism businesses. © K I Photography
The global community is failing to meet the scale of the biodiversity crisis that threatens to wipe out over 1 million animal and plant species, putting our economies, food security and health at risk.
But the world can chart a new course. And trade has an important role to play.
More than 190 countries are currently negotiating, under the Convention on Biological Diversity (CBD), new global biodiversity goals and targets that are expected to be adopted during the second phase of the UN Biodiversity Conference (COP15) in 2022.
Trade's role overlooked
International commerce has so far been overlooked in the negotiations, even though unsustainable trade has helped fuel the crisis. Coffee and chocolate are just two examples of products consumed daily around the world that are linked to biodiversity loss.
If done sustainably, however, trade can be a force for good. And voluntary sustainability standards (VSS) offer an important tool to ensure the goods we buy are produced and traded in a way that protects people and the planet.
"Global meetings like COP15 are important occasions to highlight the key role sustainability standards can play in safeguarding our planet's biodiversity while improving living standards around the globe," UNCTAD Deputy Secretary-General Isabelle Durant said.
A recent workshop held by UNCTAD and the ISEAL sustainability alliance, in partnership with the CBD secretariat, highlighted how VSS could strengthen the upcoming post-2020 global biodiversity framework.
The right standards create the right incentives
Today, more than 500 sustainability standards exist and are used for key global exports and imports. In addition to coffee and chocolate, these include tea, bananas, cocoa, palm oil, timber and cotton.
The standards, which are mostly voluntary, help consumers easily identify products that have been produced sustainably.
The UNCTAD-ISEAL workshop convened dozens of biodiversity negotiators, experts, importers, exporters and other stakeholders from more than 50 countries.
The discussions highlighted how the sustainable and legal trade of biodiversity-based products and services, such as BioTrade, can create the right incentives for the private sector to conserve and sustainably use biodiversity.
"The need for effective mechanisms, such as sustainability standards, that help shift unsustainable production and consumption patterns that are harmful to biodiversity is crucial," CBD's executive secretary, Elizabeth Maruma Mrema, said at a report launch ahead of the workshop.
Potential to play a bigger role
"We are convinced that there is untapped potential in the nexus between voluntary sustainability standards and biodiversity conservation, especially on the sustainable use of biodiversity," said Martin Peter, deputy head of trade promotion for the Swiss State Secretariat for Economic Affairs (SECO), which provided financial support for the workshop.
Speakers urged all actors to continue working to reduce the complexities of VSS and increase their accessibility. They agreed that more needed to be done to help small businesses and producers, especially in developing countries, understand and meet the certification requirements, which can be costly.
Santiago Fernandez de Cordoba, an UNCTAD senior economist, said: "In order to maximize the contribution of voluntary sustainability standards to conserving the environment, we need to ensure collaboration and transparency among key stakeholders."
"And we must make VSS uptake less costly for small-scale farmers in developing countries and enhance their integration in public policy," added Mr. Fernandez de Cordoba, who is also UNCTAD's coordinator for the UN Forum on Sustainability Standards (UNFSS).
Otherwise, VSS could marginalize poorer producers who don't have the financial capacity to comply with the standards.
A tool for evidence-based implementation
The workshop also featured a discussion about the evidence of sustainability standards' positive impact on biodiversity conservation.
Participants agreed that sustainability standards could be a vital tool to strengthen the implementation and monitoring mechanisms in the new biodiversity framework that will be adopted at COP15, by providing evidence-based studies and academic research.
"There is far more research on the impacts of sustainability standards on biodiversity conservation than any other market-based or supply chain sustainability approach," ISEAL senior manager Vidya Rangan said, referencing analysis and research on Evidensia.
The online platform provides public access to credible research on the impacts and effectiveness of sustainable supply chain initiatives and tools.
Next steps
UNFSS and UNCTAD's BioTrade initiative are working together on exploring the role of VSS to help conserve and sustainably use biodiversity. The work will contribute to a better understanding of how VSS can be leveraged to help implement the new biodiversity framework.