09 March 2017
Eighty-nine researchers, government officials, UN staff and civil society representatives, including58 women and 31 men from 55 countries successfully completed the third edition of the UNCTAD online course on trade and gender, held from 9 January to 26 February 2017.
Delivered jointly by UNCTAD's Virtual Institute and the Trade, Gender and Development Programme, the third edition of the course was part of a capacity-building project on trade and gender funded by the governments of Finland and Sweden.
Based on UNCTAD teaching manual on trade and gender, Volume 1: Unfolding the links, the course used a combination of reading material, multimedia lectures, and tutor support to introduce the concepts and analytical frameworks related to the trade and gender relationship.
Overall, participants said the course met or exceeded their expectations, and that they left the course not only with better knowledge of the two-way relationship between trade and gender, but also very motivated to apply it in their work.
For some participants, it was the opportunity to deepen their understanding of the nexus between trade policy and gender inequality, a nexus they had not had the opportunity to fully explore previously.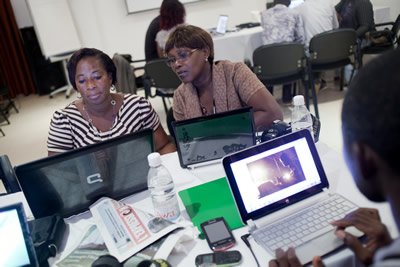 Participants at the course
Related link:
"As an economist, I have never come across a program that gives detailed analysis of the link between trade and gender. Gender issues are mostly treated under other social studies. This course was an eye-opener" declared Edna Osei-Appiah, Economic Research Analyst, Institute for Fiscal Studies, Ghana.
"The content of the course is much more interesting than I have thought. The gender perspective is a different point of view of learning and thinking about trade" said Patricia Carvalho, professor at Cedeplar/Universidade Federal de Minas Gerais in Brazil.
"I was not aware of the many and crucial dimensions of this important matter and its relevance to international trade, and how it is directly related to my professional activity", added Victoria Francolino, Deputy Permanent Representative of Uruguay to WTO, UNCTAD, WIPO and ITC.
According to the feedback, participants are now better equipped to support gender-responsive policy-making in their respective countries, matching one of the main goals of the course.
"Before attending this course I was not aware of some aspects of gender inequality. My knowledge on the subject increased a lot. I am now better prepared to provide policy recommendations to the policy makers of my country", declared Bruno Araujo, Lecturer at the Eduardo Mondlane University in Mozambique "I managed to understand the two-way relationship between gender and trade and I am now able to advise the policy makers on issues regarding this area", added James Hurungo, a Senior Economist at Reserve Bank of Zimbabwe.
Some participants shared specific plans for the future as follow up of the course. "I feel ready to teach in the area of improving gender equality. This is important for my country because it is one reason that is also holding back economic development", said Moses Lameck Mfune, a Customs and Trade Facilitation Specialist at Dar es Salaam Corridor Committee Secretariat. "I will incorporate the materials covered in my teaching of Development Economics and International Trade courses" added Ahmed Elwalied, Associate Professor of Economics at the Islamic University of Madinah in Sudan.
While some participants have plans, others have already used the knowledge acquired through the course to launch new initiatives: "The course not only has enriched my knowledge, but also provided with many evidence-based cases on how trade influences women differently in different countries. The information helped very much to prepare a training course for representatives of the Ministry of Economic Development and Trade of Ukraine about application of gender-based analysis for commodity selection for export", shared with us Galyna Meshcheryakova, a Gender Expert at the Canada-Ukraine Trade and Investment Support Project.
A concluding comment by Samar Samara from the Ministry of Commerce of Pakistan: "Honestly, I don't remember the hours spent! But I remember that I have enjoyed it, never felt bored."