29 June 2022
Written by: Edna Ramirez-Robles, Article No. 91 [UNCTAD Transport and Trade Facilitation Newsletter N°94 - Second Quarter 2022]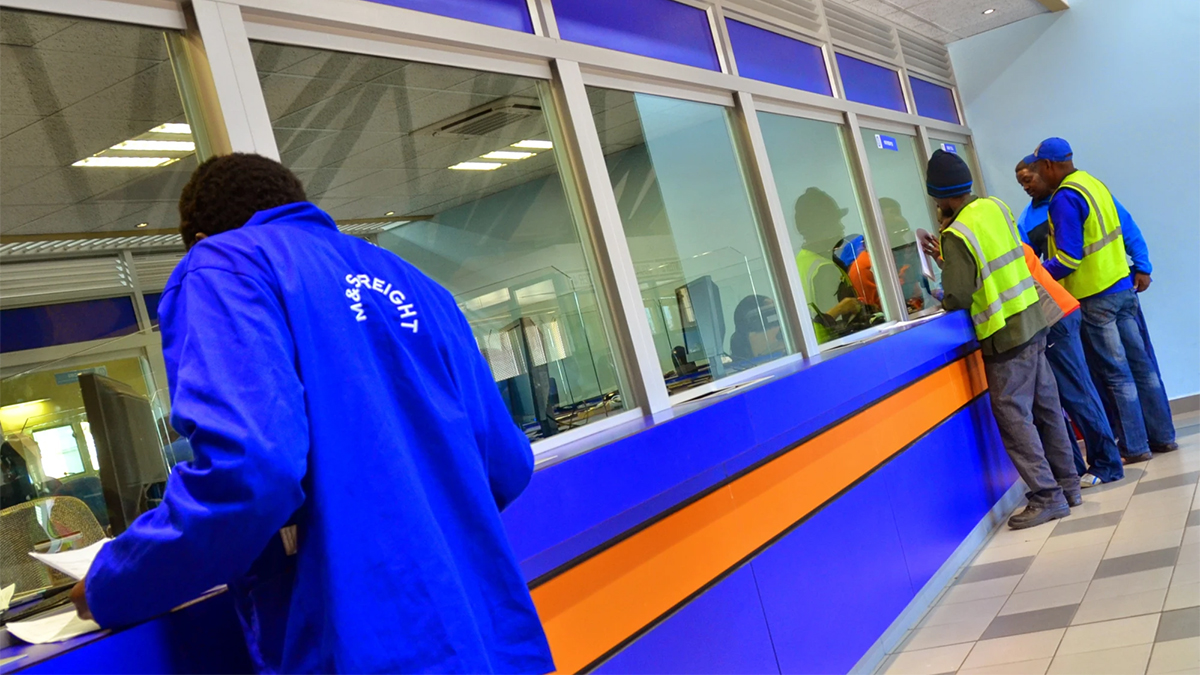 © Jan Hoffmann | Ngwenya border crossing
The Trade Facilitation Agreement (TFA) of the World Trade Organization (WTO) helps countries make international trade faster and cheaper by simplifying, standardizing, harmonizing and modernizing international cross-border trade. TFA measures are important as they address procedural obstacles to trade, such as those related to lack of transparency and duplication of documentation requirements, thus reducing costs and improving efficiency. Therefore, trade facilitation brings benefits by allowing businesses improved access to foreign production inputs and by supporting greater participation in global value chains. Besides improving a country's trade competitiveness and the effectiveness of border agencies trade facilitation reforms can also help advance other development goals such as strengthening governance and formalizing informal sectors.
Implementing TFA provisions at a national level has not been a straightforward exercise. Currently, various international organizations have developed projects to support the developing world in executing domestically, the above-mentioned TF measures. However, connecting the developing world and the projects developed by the International Community, is a challenging task. The Trade Facilitation Agreement Facility (TFAF) Grant Program seeks to reduce this gap, becoming a bridge between both worlds.
This article explores why developing and least developed countries need support to implement TF reforms and how this is this done. It also provides explanations for the existing gap between the developing world and international community projects, and how TFAF can help.
Understanding the gap between needs to implement TF reforms and the TF technical cooperation offer
Developing countries (DCs) and Least Developed Countries (LDCs) will benefit the most from fully implementing the WTO TFA measures according to forecasts done by the WTO. However, the capacity of a country for implementing trade facilitation reforms is closely linked to its level of development. To respond to this, an innovative special and differential treatment feature adopted in the TFA text allowed DCs and LDCs Members to choose the timing and sequencing of implementation of different TFA measures, classifying them under three different categories, as illustrated in Table 1:
Table 1: TFA implementation categories and type of measure of notification by WTO members
TFA implementation category

Measures most included in each category
(TFA article / percentage of notifications related to this article)

A

Measures to be implemented by the time the TFA enters into force

Movement of goods (art. 9 / 86.5%)
Preshipment inspection (art. 10.5 / 86.2%)
Detention (art. 5.2 / 81.6%)
Use of customs brokers (art. 10.6 / 81.6%)
Temporary admission of goods and inward and outward processing (art. 10.9 / 81.3%)
Common border procedures (art. 10.7 / 80.2%)
Rejected goods (art. 10.8 / 80.1%)

B

Measures for which additional time (transitional period following the entry into force of the Agreement) will be needed

Consultations (art. 2.2 / 23.3%)
Notification (art. 1.4 / 22.1%)
Comments and information before entry into force (art. 2.1 / 22.1%)
Publication (art. 1.1 / 22%)
Acceptance of copies (art. 10.2 / 20.9%)
General disciplines on fees and charges (art 6.1 / 20.7%)

C

Measures for which additional time AND Technical Assistance and Capacity Building (TACB) or financial assistance will be needed

Single Window (art. 10.4 / 50.6%)
Risk management (art. 7.4 / 37.9%)
Test procedures (art. 5.3 / 37.4%)
Authorized operators (art. 7.7 / 37.2%)
Average release times (art. 7.6 / 35.3%)
Border agency cooperation (art. 8 / 35%)
Information available through the internet (art. 1.2 / 32%)
Sources: TFA and WTO TFA Database Status of Notification by Measure
According to the data provided in the Notification Matrix of the TFA Database, 95 WTO Members (of the 125 that notified measures under categories A, B, or C) categorized at least one measure in "C". DCs and LDCs categorized as C TFA measures considered particularly challenging for implementation.
A look at the 7 most notified measures under category C (Table 1) suggests they involve changes in cross-border trade administrative processes that may entail a higher degree of technical expertise, higher costs of implementation (compared to other TFA measures) or extensive coordination across a wide range of institutions.
This is also why most of the needs for assistance (articulated through Member's notifications to the WTO) correspond to measures categorized as C and also why, currently, most projects of the international community focus in assisting countries to implement measures categorized as C.
Organisations with this type of projects include IMF, ITC, OECD, UNCTAD, WBG and WCO. Information about TFA support activities that are being carried out by partner organizations can be found in a document coordinated by the TFAF. Other international organizations and development banks (such as IADB, ADB, EBRD and ISDB) also provide support for trade facilitation reforms.
The involvement of the international community to support implementing TF reforms is welcome by governments. It has the potential to bring worldwide best practices to its beneficiaries, release the burden of important costs and can also provide certainty for concluding projects, independently of the government in place.
In my experience consulting in several programmes of this nature[i], activities foreseen in these projects help countries getting all public and private stakeholders involved in the process of identifying and prioritizing needs to implement TF reforms, provides key capacity building activities and planning support to ensure an efficient and correct implementation of the agreement.
However, despite efforts by Members and the international community in categorizing, and notifying definitive dates for implementation, there is a deficit regarding arrangements between Members and donors to implement measures categorized as C, as reflected in notifications made to date.
The situation of LDCs illustrates well the challenge in this area. According to the Global status of notifications of the TFAF Database, by February 2021 (the deadline for LDCs to provide information on arrangements entered with Donors on TACB for category C), only 34% of them had notified an arrangement to implement C measures with donors' assistance. In other words, 66% have not notified arrangements with donors.
The WTO TFAF as a bridge to match technical cooperation needs and donor support
The WTO TFAF was created[ii] at the request of DCs and LDCs Members to ensure they receive the assistance they need to reap the full benefits of the TFA, and to support full implementation of the TFA by all Members. Against this background, in 2018, developing and LDC Members as well as the international community decided to strengthen and synergize resources by launching a Grant Program managed by the TFAF. There are two types of grants to Developing and LDC Members notifying Category C commitments: project preparation grants (PPGs) and project implementation (PG) grants.
This program states that where no other funding source is available, a Member can express its interest and the TFAF will circulate the needs to a broad group of donors and development partners, who can step in to offer their assistance. If no help is forthcoming within a short deadline, the TFAF will examine the needs in question and the viability of awarding the first type of grant. PPGs are available in circumstances where a member requires additional support to successfully apply for assistance to implement their category C provisions within the notified definitive dates for implementation. Assistance provided by TFAF for the PPGs will be up to a maximum value of US$30,000.
By March 2022, 7 countries (Dominican Republic, Grenada, Guyana, Jamaica, Mongolia, Namibia and Kyrgyz Republic) and 1 regional grouping (CARICOM) have been awarded a TFAF Grant for their TFA Provisions notified as "C" and requiring assistance. Real time updates on successful expressions of interest (those which identify assistance) and grants awarded are available online at the TFAF website. The last awarded grant is now ongoing with a project date from 1 January 2022 to early April 2022.
Developing project proposals for obtaining a grant have provided several benefits:
They have served to fact-find, organize, and propose a plan for donors regarding the implementation status and context of the measures in question;
They have helped strengthening the connection between the PPGs awarded Members and the international community;
Relevant public and private stakeholders from the applicants are directly involved, and assist in identifying the most recent improvements regarding its current implementation status of the measure(s) in question;
These projects assist donors and implementing agencies to clearly identify the needs of beneficiaries;
Members can finalize arrangements with the international community to be able to implement trade facilitation reforms and
Members that are not able to reach arrangements with donors, can apply for a TFAF Project Implementation Grant of 200,000USD per measure.
For PPGs awarded, Members, donors and implementing agencies are working together to find ways for supporting them. Meetings have already been conducted between them, they have passed the exploratory stage, and they are in direct communication seeking to launch implementation efforts.
The TFAF team keeps track of these meetings and facilitates the launch of implementation activities. As for Members where the international community has not expressed capacity to assist, TFAF has constituted its selection committee that examines the PPGs and decides on the viability of awarding an implementation grant.
PG grants are available for assisting the implementation of applicants' TFA provisions categorized in C, only if donors are unable to provide assistance. Then, the TFAF will examine the viability of awarding PI grants to a maximum value of US$200,000 per measure.
Although the TFAF Grant Program is relatively new, it has been considered successful by its beneficiaries as expressed in the WTO Trade Facilitation Committee. Thanks to it, 17 countries (6 DCs and 11 LDCs) have found arrangements with donors, from 95 that have notified measures in C.
Conclusions
Full implementation of TFA measures will make trading with all countries more efficient, transparent and automatized. The capacity to identify needs related to implement TF reforms, to monitor sequential reforms across institutions and mobilize timely support to overcome challenging issues is crucial for successful implementation of the TFA
The TFA´s category system makes the implementation of the TFA more efficient and cooperative. The International community has shown commitment to help countries to implement their trade facilitation needs through programs, capacity building and other forms of assistance.
The TFAF Grant Program facilitates the interaction and arrangements between donors or implementing agencies and Members with TFA measures considered more challenging for implementation (and categorized as "C"). In the event the international community is unable to assist, or cannot reach an arrangement with Members, they can obtain a project implementation grant from the TFAF.
It is crucial that all Members that have not yet been able to plan on their own with donors for implementing their category C measures, apply to the TFAF Grant Program. The application process is simple and has many benefits, as mentioned above. The rate of countries finding arrangements with donors to implement such needs to increase. Particularly, now with support available in the form of this valuable resource at the WTO TFAF.
This facility and the support it provides is particularly relevant in view of the upcoming notification deadline for LDCs (22 August 2022) to provide definitive dates for category C designations and inform of progress in TACB provision for TFA measures categorized as C.
---
[i] Such as the TFAF Grant Program with several countries and a regional grouping, consulting with UNCTAD, USAID TFB, World Bank and providing training courses to NTFCs.
[ii] The TFAF Member partners include Australia, Austria, Canada, European Union, Finland, France, Germany, Ireland, Japan, Netherlands, New Zealand, Norway, Spain, Sweden, Switzerland, United Kingdom, United States of America, as well as several International and Regional Organisations, Transport Organisations and other Specialized Organisations.
---
About the author:
Edna Ramirez-Robles | Professor of International Trade Law at Universidad de Guadalajara (UDG), CUC, Mexico | CEO & Founder of GoBizGlobal | edna.ramirez@academicos.udg.mx
---
Disclaimer
This site may contain advice, opinions and statements of various information providers. The United Nations does not represent or endorse the accuracy or reliability of any advice, opinion, statement or other information provided by any information provider, any User of this Site or any other person or entity. Reliance upon any such advice, opinion, statement, or other information shall also be at the User's own risk. Neither the United Nations nor its affiliates, nor any of their respective agents, employees, information providers or content providers, shall be liable to any User or anyone else for any inaccuracy, error, omission, interruption, deletion, defect, alteration of or use of any content herein, or for its timeliness or completeness, nor shall they be liable for any failure of performance, computer virus or communication line failure, regardless of cause, or for any damages resulting therefrom.